Introduction (Does It Do What It Should)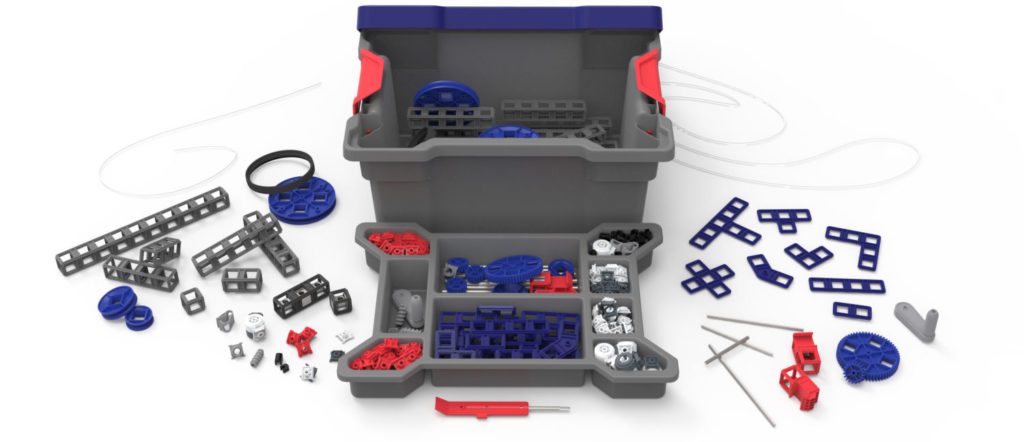 I'm always pleased to try out anything that has to do with STEM (Science, Technology, Engineering, and Mathematics). I've mentioned in the video that I've reviewed similar kits (I hesitate to call them toys) from Sphero before, and I have worked extensively (written books on) Lego Technic, Lego Mindstorms, and UBTECH Jimu Robots.
It seems like there are a lot of companies that make these STEM construction kits, and it is probably because they probably work. That is, younger minds readily embrace these kits like toys, and there are great opportunities to learn from them.
When it comes to the Blueprint, I think it is very aptly named. I look it its basic building component or "truss", and it looks like a girder used heavy construction. That is as basic as its gets, and there are also these connectors which are kind of like rivets.
As for the rest of the parts, there are kinds of turntables ready to make parts spin, and plates that will hold the trusses together. These pieces are plastic, and they include these swivel joint products, as well as solid metal axles or "shafts".
Yeah, there are over 320+ parts modular parts in this thing. There is also a lesson plan with up to 50+ hours of in-depth, standards-aligned lessons, for building simple machines and compound machines.
I have to admit that I didn't really build anything too complex when I did this, as I was just intent on seeing what this is capable of. It's kind of like reviewing a video game, as you really only can get so much playtime for an adequate review, but it might take a week or even a few weeks to actually beat or get 100 percent on the game.
I have heard that this supports various CAD certification and such. If so, I am really interested in working with that.
Facts About The Company
According to their "About Us" Sphero is here to have K-12 education with accessible tools to encourage exploration, imagination, and perseverance through STEM and computer science. Sphero helps educators all around the world to empower learners of all backgrounds and abilities to discover interests and passions to equip them with skills they need to become "changemakers".
I hesitate to call Sphero's products "toys", but they certainly look as fun as toys. I mean, I have a list of products from them that I reviewed in the past, and I loved to review every one of them. In fact, I wished I had more time in my review for this particular product.
What Does This Company Make?
Well, there was that really cool Sphero RVR, which is a mobile roving vehicle that you can do a lot with.
Then there is this really cool littleBits Space Rover Inventor Kit, and there's a lot that can be done with that.
Oh, and then there was this Sphero Indi, a car that can do quite a bit with some interesting programming tricks.
I believe that the most famous product is the Sphero Bolt, which even President Obama was caught playing with.
Just the Specs, Man
If you're the type that needs this info, this section is for you!
I don't really have any specs to report here, so I'm going to leave this blank.
If there is something on this that I didn't cover, please let me know.
What Do the Reviews Say?
I've got something on Amazon which shows 5 stars, for 3 reviews. I would probably rate this just as highly.
Okay, Get To The Unboxing Already!
Okay, I Like It, Just Give Me The Link So I Can Buy It Already!
Maybe I Want It, But Is There Anything Else Like It? Maybe For A Lower Price? Please?
I've already mentioned the products from Sphero already, which are very similar. We recently reviewed some Lego Technic sets, but you'll have to purchase a few sets to get some kits going on. We also reviewed the Lego Mindstorms EV3.