Introduction (Does It Do What It Should)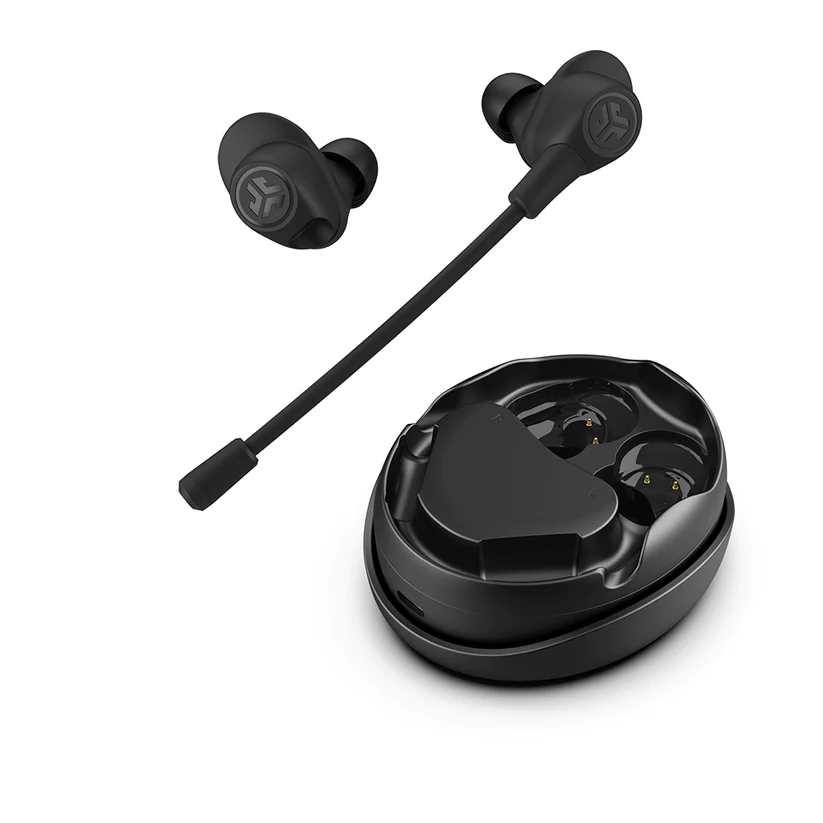 Well, it would appear that I lost my wireless earbuds, but it was fortunate that JLab just happened to send me these. The weird thing is, I'm not certain whether I will ever find the old pair.
What is interesting is how these particular earbuds come with a boom mic. There is some kind of port that you plug in that boom mic, and you can see (and hear) how loud my voice is. I've just been using my regular earbuds for years.
What is strange is how this boom mic fits into the case. You don't have to remove it each time, as it just lies in there with whatever earbud it is connected to. I didn't really cover that in the video, and I probably should have covered how the case separates into two forms and they magnetically lock together. What was funny is how I was using these earbuds on a metal bench, and they magnetically locked to it.
So, I will say that the earbuds have some super sound, and I'm listening to it right now. There is a USB-C charging dock, and it will give a 55 plus total playtime, with 10 plus hours per single earbud charge. By the way, there is a dual connect to use an earbud independently or both together.
Oh, I seem to have forgotten this, but there is a JLab App for controlling and customizing the Be Aware setting to let outside noise in, plus touch controls, and setting the sound to your personal preference.
And they are comfortable, as I wore them most of today, and then I barely noticed the boom mic.
Facts About The Company
The company loves to say: "welcome to the Lab", and it has a lot to brag about, apparently. They really want to make quality products at an affordable price.
What Does This Company Make?
I'm seeing a lot of earbuds and headphones, and about ten years ago, I reviewed some wired earbuds known as the Epic.
Just the Specs, Man
If you're the type that needs this info, this section is for you!
Includes:
Work Buds earbuds, detachable boom mic (fits left or right bud), 3 sets Cush Fins™ (S, M, L), 3 sets gel eartips (S, M, L), USB-C Charging Dock, Mic Plug, JLab 2 Year Warranty
Audio:
Speaker: 6 mm dynamic driver
Output: 101 +/-3 dB
Microphone: MEMS (Earbud) + Condenser (Boom) -6 dB +/- 4 dB
Freq Response: 20–20 kHz
Impedance: 16Ω
Bluetooth
Version: Bluetooth 5.3
Range: 30+ ft.
Support Protocols: HSP / HFP / A2DP / AVRCP
Codecs: SBC
Battery
Battery Life: 10+ hours in each earbud (6+ talk)
Total Playtime: 55+ hours total
Standby: 50 hours
Input Power: 300 mA
Earbud Battery: 70 mAh lithium polymer
Earbud Charge Time: ~2 hours (in case); 15 minutes charge = 2 hours playtime
Charging Case Battery: 1000 mAh lithium polymer
Case Charge Time: 3 Hours
Charge Plug: Type-C
General
Weight: 96.8 g (earsbuds + case)
IP Rating: None
Warranty: 2 year warranty
If there is something on this that I didn't cover, please let me know.
What Do the Reviews Say?
After 13 reviews, 12 of them are 5-star ones. That's pretty good, with only one 2-star one.
Okay, Get To The Unboxing Already!
Okay, I Like It, Just Give Me The Link So I Can Buy It Already!
I could find this product on Amazon, and I am not really certain why.
Maybe I Want It, But Is There Anything Else Like It? Maybe For A Lower Price? Please?
Well, it is a pair of wireless earbuds. I would say that they are a dime a dozen, but they are not that cheap. I would say that the Poly Voyager Free 60+ are highly decent.
Like I said before, no one has really made one with a touchscreen. I did review that Urbanista one that was solar-powered. My most recent reviews of earbuds are the following, and I can recommend them.
There's always these from Jabra with the Elite 5. Oh yes, and then there were the three ones from Raycon, like the Everyday Earbuds, the Fitness Earbuds, and the Gaming Earbuds.