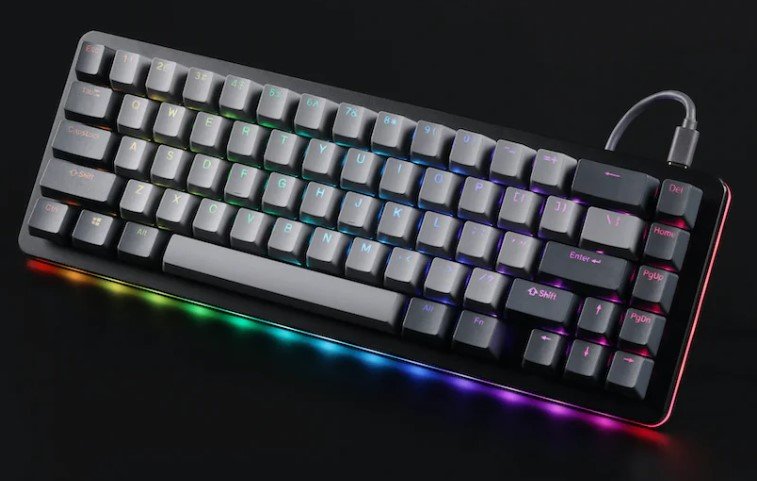 Introduction (Does It Do What It Should)
Oh yes! I think once I unboxed this thing (see below), it works by just plugging in the USB to USB-C cord. In fact, I was daring and used a very different USB to USB-C cord. Once it is plugged in, you can see the beautiful rainbow colors on this gaming keyboard, because…well I guess it is a gaming keyboard. I mean, don't all gaming keyboards look like this?
Now, I checked on this keyboard from Drop, and the Drop ALT has 67 keys, unlike the CTRL has 87. Yes, the Drop company has a keyboard called a CTRL and an ALT, but not a DELETE. Drop also has keyboards like the ENTER and SHIFT. It should be also known that there is a high-profile version of the Drop ALT, and I think I quoted that price on Amazon in the video and below.
But enough with the nitpicks, lets talk about the Drop ALT's construction. It has a total solid aluminum frame with a built-in switch plate. It feels very hard, and it also feels slightly heavy. I don't know how well it would respond to an actual drop, and I didn't really see a need to test that.
Not only is the construction great, I like how it has an optimized per-key lighting with "millions of colors". All you need to do is hit the Fn key and you can really cycle through not only the colors of the rainbow, but just other kinds of patterns as well. I can't help but love it, and there are many variations that you can find by just clicking on FN + A.
Now, I don't know what to think about this next feature, but it has fully programmable via QMK. This is some firmware and allows for taking control of every key. I'm assuming that is for you gamers, and I don't know much about that.
I wasn't certain where to put this fact, but you can connect the keyboard to your laptop via one of two USB-C ports. What's cool is that you can use that extra USB-C port for charging, but I can't seem to get my phone, connected to this keyboard, connected to my laptop, to be recognized as far as its data is concerned. (I hope that makes sense.)
Facts About This Company
So, what can we say about this company? The best thing we can say is that they take pride in the fact that they listen to their users. They are "designed for everyone" and "community inspired products".
Drop is driven by a passionate group of creators and technophiles who tap into feedback and insights from its enthusiast community—millions strong—to design and curate Drop's selection of products. Drop listens to, digests, and analyzes community feedback in the creation of Drop products, and collaborates with leading brands to improve upon existing products in a way that is relevant to the Drop community. Drop is continuously broadening its workspace product focus into new categories to ensure it brings its community the technology they need to thrive.
Normally, when I check out what a company does, I check out the "About Us", and I was surprised that one of the "About Us" had a "About Drop Studio" section. This is a company that has 620 products to date, with 31 in the works.
What does this company make? (Their specialty)
While I'm not certain why the company is called Drop, they are masters of dropping some great products. We're looking at some audiophile products like headphone accessories, and just headphone accessories. Seriously, I don't see a single pair of headphones that is made by this company. It feels obvious to me, as they seem to make almost everything else.
Then there is the mechanical keyboards. I believe the term mechanical keyboard refers to one with spring switches, and it does feel pretty comfortable as you click. As I mentioned before, you can find many on the Drop company website.
Just the Specs, Man
If you're the type that needs this info, this section is for you!
67 keys
Anodized CNC machined aluminum frame
Custom PCB
Hot-swap switch sockets
QMK firmware
Plate-mounted Cherry-style stabilizers
Cherry MX, Kaihua, or Halo switches
Doubleshot PBT shine-through keycaps
Floating key design
Dual USB-C connectors
PCB compatible with 3-pin plate-mount switches only
Weight: 24.5 oz (696 g)
Dimensions with OEM keycaps: 12.67 x 4.41 x 1.26 in (32.2 x 11.2 x 3.2 cm), 1.57 in (4 cm) height with magnetic feet attached
Keyboard Configurator
If there is something on this that I didn't cover, please let me know, as I am guessing I hit on the important factors.
Okay, Get To The Unboxing Already!
What is in the box:
56-inch USB cable
Keycap puller
Switch puller
1-year Drop Warranty, which is also an instruction sheet.
2 Magnetic adjustable stands (See Video)
What Do Other Reviews Say
Since I don't think the one available on Amazon is the regular, but rather the High Profile, I won't take that into account.
Review from the Drop website average a 4.4 at time of writing.
Okay, I Like It, Just Give Me The Link So I Can Buy It Already!
You might want to go check out the price on the Drop site and see what you can get for it there. At the time of this writing, it has a 40 percent price cut.
Also, just to let you know, the ALT does have a "high profile" version for a larger price. I looked the one that I received over, and I believe that I have the basic version, but I don't know what the High Profile comes with that the regular does not.
Maybe I Want It, But Is There Anything Else Like It? Maybe For A Lower Price? Please?
Well, I did just do a review of a ROCCAT Keyboard with the Magma Mini. It is quite cheap at $49.99, but doesn't have as much diversity with its light/color pattern. I've reported on other ROCCAT gaming keyboards as well, such as the Vulcan II Mini Optical.
As far as other brands of keyboards are concerned, there are many. There is the CK270 from Cooler Master and Cooler Master "twin" of the CK271.