Introduction (Does It Do What It Should)
Okay, we're reviewing a pair of Bluetooth Speakers from a company that I have never heard of, Sway Audio. What can I say, sometimes I get contacted by companies I've never heard of before and get cool stuff to write and do videos about. One of the perks of my life, honestly.
So, I have two speakers to review today from Sway Audio, and both of them have Fire Flame in the name. I have to admit that "Fire Flame" doesn't make much sense. It would be like calling a product "Ice Icicle". I could have sworn that I mentioned this in the video, but I found that footage was missing.
I caught myself laughing about the "Fire Flame" name later in the video, and you can see it for yourself. If the name is my only nitpick about these two stereos, that is a good thing.
Our Review of Sway Premium Audio Fire Flame Hydro Mini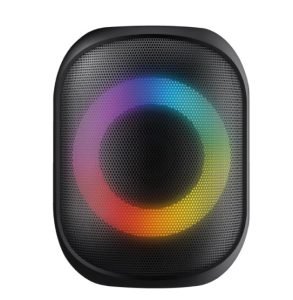 I guess I'll start small with the Hydro Mini, which is at 6 watts. I should probably tell you that it is 4 inches tall, and the sound is quite good.
Pairing it was pretty simple, and I have to truly love how it has some cool blinking colored lights. I have to say that I was kind of hoping that these lights were not in sync with the music, but not every speaker, Bluetooth or otherwise, can do that.
I am told that this is IPX7 certified, so it is water resistant. I've discovered that most Bluetooth Speakers are made this way because I think most people use Bluetooth Speakers at parties, and at parties, like the ones on the beach, people tend to get wet.
You may have noticed in the video that I had to pry open this rubber flap in order to access the aux port and the charging port (a USB-C). There was a SD card slot there, I think. I didn't really have an SD Card with audio files on them to test it out.
Our Review of Sway Premium Audio Fire Flame Hydro Go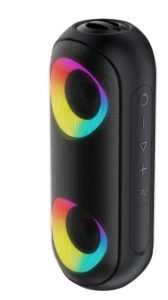 Okay, so we're about ready to talk about the Hydro Go, which is a cool pill shaped speaker that reminds me of something that Beats used to put out. Actually, I'm probably not certain if Beats still makes The Pill, honestly. You know, the one from Beats?
That being said, let's go with the Hydro Go being quite a speaker, which it is. Now, there is about 20 Watts of Power, and you will notice the difference between the Hydro Go and the Hydro Mini. You can see it is made to stand up horizontally, but it can do vertically as well. You just have to do stand it in a certain way so you don't hit the lanyard part. Oh yeah, there's a lanyard. That Hydro Mini only has a small loop or something.
It is also easy to pair, and it has the lights going on as well. I don't think that the lights are designed to sync to the music. Normally, that should be obvious when that happens. Oh, and it also has the IPX7 certification going on, too. So, yes, it is a larger version of the Hydro Mini.
Facts About The Company
According to the About Us on SWAY Audio Team website, the company is passionate about life, audio, and creating experiences that bring those two together for memories that will last a lifetime. So, I'm guessing that these guys specialize in audio products, right? I mean, it is Premium Audio, right?
What Does This Company Make?
So far, I've seen nothing but speakers on their website. I don't see anything like headphones or earbuds, but if this company has plans for that, I'm game. As I look more into this company, I find out that Sway Premium Audio is new to Amazon with their stereo speakers, and it looks like they are "new to Amazon". Is this company…new?
Just the Specs, Man
If you're the type that needs this info, this section is for you!
Sway Premium Audio Fire Flame Hydro Mini
* IPX7 Certified
* Wireless BT 5.0
* TWS Capable
* Full Motion LED
* 3.7V/1500mAh battery
* Type C Charging Port
* 6 Watt Output
Sway Premium Audio Fire Flame Hydro Go
* 20 Watt Output
* IPX7 Certified Waterproof
* Full Motion LED
* Wireless BT Version 5.3
* Type C Power Connectivity
* 15 Hours Play Time (No LED)/12 Hours With LED
* Drop Resistant Rubber & Iron Net Core
If there is something on this that I didn't cover, please let me know.
Okay, Get To The Unboxing Already!
What is in the Box?
Sway Premium Audio Fire Flame Hydro Mini
Stereo Speaker
Aux-to-Aux Cable
Charging Cable
Sway Premium Audio Fire Flame Hydro Go
Stereo Speaker
Aux-to-Aux Cable
Charging Cable
Lanyard
What Do the Reviews Say?
At the time of this writing, the Sway Premium Audio websites for the respective products of the Hydro Mini and Hydro Go have only one review on them, each.
Why are there so few reviews? I mean, isn't this a good product? Oh yes, it is. I personally like my reviews, and I don't get that many subscribers.
Yes, I think that the Sway Premium Audio Hydro Mini and Hydro Go are just too new. Perhaps I should leave a review myself.
Okay, I Like It, Just Give Me The Link So I Can Buy It Already!
As of this writing, you can purchase the Hydro Mini on the Sway Premium Audio for $79.99. If you want the Hydro Go, head on over to the Sway Premium site for $89.99.
Maybe I Want It, But Is There Anything Else Like It? Maybe For A Lower Price? Please?
Oh, yes. I just recently reviewed the MUVO Go from Creative and the VisionTek SoundTube XL V2. They are actually bigger and about the same price. I'd have to be a true audiophile to say that one sound is "better".
Now, those speakers that I just mentioned are large ones. These particular ones are from companies like Anker, like the Soundcore Flare. Then there is the Liddle Speaker, and it is…little.