Introduction (Does It Do What It Should)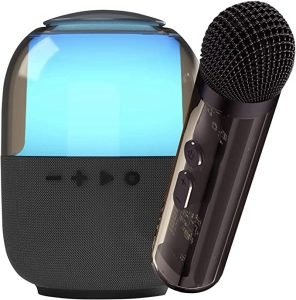 I've reviewed Sway Audio products before, like some cool Bluetooth speakers, but today, I'm reviewing a Bluetooth Speaker and a microphone with the Sway Audio Minioke LED Go.
The speaker is a 5 Watt kind, and this portable Karaoke speaker has a pleasant glow when it is on. I didn't have a demonstration of this in the video, but you can change the Minioke's lighting pattern by hitting the power button once again.
It is very easy to pair this speaker with your smartphone, and from there, the wireless microphone just kind of pairs automatically. From there, it becomes like a Mr. Microphone, and I would just prefer you to Google that if you don't know what a Mr. Microphone is.
But the Minioke is designed specifically for Karaoke, which means that you can get your voice with some Karaoke-inspired music. Where are you going to find Karaoke-style music? I just did a search for them on YouTube, and I found plenty.
Once you got your song cued, you can sing along, and the results may vary. You can see in the video my attempts, and it certainly isn't the most musical of moments, and I'm pretty certain I'm not even good enough to be rejected on TV by Simon on American Idol.
By the way, the microphone is capable of doing some interesting voice transformations, like Female-to-Male and Male-to-Female. I also think there is a helium mode that makes the voice go really funny.
So, this is the Minioke, and made to really liven up some parties. Shoot, I was having some fun with it on my own.
Facts About The Company
According to the About Us on SWAY Audio Team website, the company is passionate about life, audio, and creating experiences that bring those two together for memories that will last a lifetime. So, I'm guessing that these guys specialize in audio products, right? I mean, it is Premium Audio, right?
What Does This Company Make?
So far, I've seen nothing but speakers on their website. I don't see anything like headphones or earbuds, but if this company has plans for that, I'm game. As I look more into this company, I find out that Sway Premium Audio is new to Amazon with their stereo speakers, and it looks like they are "new to Amazon". Is this company…new?
Just the Specs, Man
If you're the type that needs this info, this section is for you!
* Bluetooth Version 5.0
* Up To 6 Hours Playtime 3.7V/2000mAh battery
* 5-Watt Output
* Upgraded 2.4G Connection Wireless Microphone
* Multi-Ambient LED Lightning With Multiple Settings
* Type C Charging Port (Type-C Data Cable Included)
If there is something on this that I didn't cover, please let me know.
Okay, Get To The Unboxing Already!
What is in the Box?
Stereo Speaker
Microphone
Charging Cable
What Do the Reviews Say?
At the time of this writing, the Sway Premium Audio Minioke has about 3 reviews, and they are very high at about five stars. I don't really see any particular reviews on Amazon.com, but hey.
Okay, I Like It, Just Give Me The Link So I Can Buy It Already!
Maybe I Want It, But Is There Anything Else Like It? Maybe For A Lower Price? Please?
Well, I haven't really reviewed a Bluetooth speaker and microphone combo, so I'll just talk about Bluetooth speakers. I just recently reviewed the MUVO Go from Creative and the VisionTek SoundTube XL V2. They are actually bigger and about the same price. I'd have to be a true audiophile to say that one sound is "better".
Now, those speakers that I just mentioned are large ones. These particular ones are from companies like Anker, like the Soundcore Flare. Then there is the Liddle Speaker, and it is…little.