Introduction (Does It Do What It Should)
Well, it is time to do a review another fine Turtle Beach product!
Our Review of the Recon 70 Gaming Headphones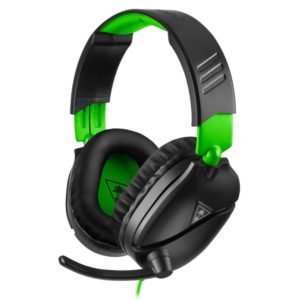 I'll start with these really awesome gaming headphones known as the Recon 70. At first I thought that these were only for the Xbox Series X and S, but I've found that the Recon 70 is good for the Xbox One, PS4, PS4 Pro, Nintendo Switch, and even your mobile phone (provide you have a place to plug in a headphone jack). I tested them out on my PC and my Nintendo Switch, and you can see that in the video.
Yes, the Recon 70 is a wired headset, which is a low-budget alternative if you don't want a wireless gaming headset due its costliness. It has some great features, such as one of those flip-to-mute microphones. The earcups give some high quality 40 mm speakers for some great sound, and the cushions are pretty comfortable on the ears.
All and all, the Recon 70 is a pretty great deal, and it is very versatile. Oh, I forgot to tell you that there is a volume dial, which is pretty great.
Our Review of the Recon 70 Gaming Headphones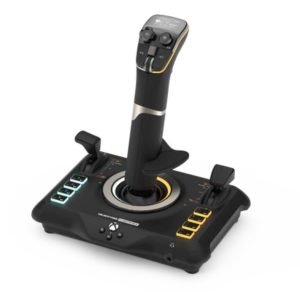 And now to talk about something very great with Velocity One Flightstick, and this is made for those that really want to play Flight Simulator or other game that is equal or less than it. I mean, it has 27 programmable buttons, 8 axes, POV hat, and a rapid-fire trigger.
My only regret is that I didn't have enough games to play on it. Unlike the Recon 70, the Velocity One Flightstick is made for the Xbox Series X/S, the Xbox One, and Windows. I had the last one, but not a lot of games, except for a few Steam ones that work well with a joystick.
I had to admit that I had issues working with it, as when I plugged it into my PC, it didn't really work. Of course, I had to use the OLED Flight Management Display and the Intuitive Flight Configuration Wheel. This wheel is located at the base of the joystick, and it wasn't quite that "instinctive", even with the instructions. I did get it working, as you can see in the video.
Unfortunately, I didn't demonstrated the cool buttons, as there are eight of them on base of it. Then there are the two levers, one on each side. Then there are buttons on the controller stick itself. Yeah, if every game required the Velocity One Flightstick, then video games would be quite complicated. But I mean that in a good way, as I like playing games that are immersive in nature.
Facts About The Company
I have reviewed many Turtle Beach products before, as you can see when I talk about what else the company makes. I don't know if Turtle Beach was first to the make third-party gaming headsets, but it would not surprise me if they were. They have been a fan-favorite brand for a while, and we're always pleased to review them.
What Does This Company Make?
I should also take the time to say that Turtle Beach is also over the ROCCAT brand, bringing German innovation with genuine passion for PC gaming products. Oh yes, they also make Neat Microphones, and we have also reviewed those. Just go ahead and skip to the end of the article if you want to see some other headsets Turtle Beach has reviewed, and you can just do a search for gaming mice, as Turtle Beach has made a lot of them. Here is the Stealth Pro Review that I did a few months ago.
Just the Specs, Man
If you're the type that needs this info, this section is for you!
Specs for the Turtle Beach Recon 70
Audio Connection
3.5mm
Speaker Frequency Response
20Hz – 20kHz
Speaker Size
40mm with Neodymium Magnets
Onboard Controls
Master Volume Wheel, Mic Mute
Microphone
Fixed Omni-Directional Flip-to-Mute Microphone
Headband Material
Synthetic Leather with Foam Cushioning
Ear Cushion
Over Ear, Synthetic Leather with Foam Cushioning
Specs for the Turtle Beach Velocity One Flightstick
Connections
USB-C to USB-A Connection: Xbox Series X|S & Xbox One, Windows 10/11
Xbox Software Compatibility
Microsoft Flight Simulator 2020 and via Compatibility Mode for Xbox, Star Wars Squadrons, Elite Dangerous, and War Thunder. Not compatible with Xbox Cloud streaming.
PC Software Compatibility
Microsoft Flight Simulator 2020, Elite Dangerous, Ace Combat DCS World, X-Plane 11 & 12, War Thunder, Everspace 2 and Star Citizen
Input Connectivity PC & Xbox
10ft/3M USB-A to USB-C Cable
Mobile Companion App
Turtle Beach® Flightstick Companion App for additional product features & customization. Available for iOS and Android.
Mounting Options
Secure Rubber feet, or pre-drilled holes for use with VelocityOne™ Stand and other flight simulation stands.
VelocityOne™ Rudder Compatibility
When using VelocityOne™ Flightstick* with the VelocityOne™ Rudder in Compatibility Mode on Xbox with Star Wars Squadrons, Elite Dangerous, and War Thunder the rudder pedal toe brake function will not work.
*Please contact Turtle Beach customer support for a complimentary USB-C cable for use with the VelocityOne Flightstick on Xbox.
Product Weight (G/Lbs.)
820/1.81
Product Dimensions (Mm/In)
164.1 x 216.84 x 230.47 / 6.46" x 8.54" x 9.07"
If there is something on this that I didn't cover, please let me know.
What Do the Reviews Say?
I found this on Amazon, but not in the same colors, but it looks like the same model. It has 87,985 ratings that average out at 4.4 stars. That is something. Then if you go to the Turtle Beach website, it rates at an average of 4.6 stars out of 86 reviews.
As for the Velocity One Flightstick, Amazon rates it at 4.3 stars out of 2,101 ratings, which also isn't bad. It gets a 4.6 out of 54 reviews on the Turtle Beach website.
Okay, Get To The Unboxing Already!
Okay, I Like It, Just Give Me The Link So I Can Buy It Already!
Maybe I Want It, But Is There Anything Else Like It? Maybe For A Lower Price? Please?
Actually, I'm having a difficult time finding it at any lower price. Most of the gaming headphones that I have reviewed are the wireless kind, and they are up there.