Introduction (Does It Do What It Should)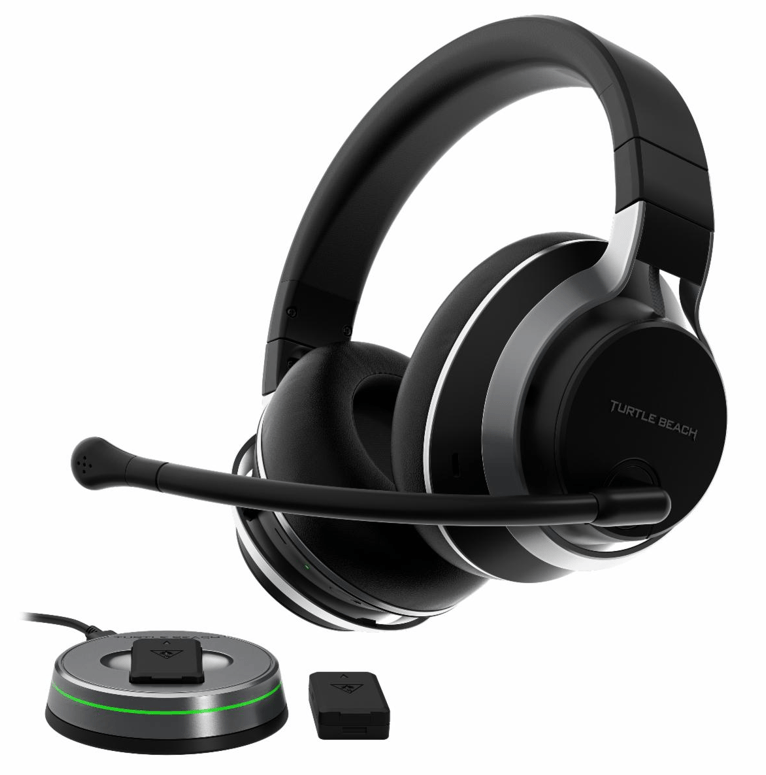 I have to admit that the hype for this product was pretty high. Before I received the review unit, This product was being hailed as the king. I am going to say that the Stealth Pro Wireless, the latest gaming headset from the gaming pros at Turtle Beach, is worth its royal title.
Since it is the sound that is going to bring you to this, you should know that the Stealth Pro Wireless has 50 mm Nanoclear drivers that are larger than it competition, about 56 percent more surface area than…what they got. It also has some crazy audio for some 3D surround sound, like Windows Sonic on Xbox.
This might be a good time to mention that I am trying out the Stealth Pro Wireless made for Xbox and PC, but there is also one made for Sony's flagship video gaming systems, too.
Let's get back to sound. We're talking a "benchmarked noise cancellation" for a gaming headset, as it has four internal noise cancelling microphones to reduce noise levels by 25dB. So if you want to drown out the background music or something, you can do that. It reduces it up to 97 percent, more than 10 times of the competition.
And what would a pair of headphones be without a boom microphone? You have to attach it with a spot that I had a hard time finding, and you can see that in the video. The Stealth Pro Wireless uses a cardioid polar pattern plus Turtle Beach's SMART (Sonic Measurement Audio Reduction Tuning) noise-cancelling technology.
What is interesting is how this has two swappable 12 + hour battery packs to provide power when you need it. So while you play, you just put the other battery in and charge the other in about 15 minutes. Yes, I realized that I called these battery packs "transmitters" in the video below, but it was only because I didn't realize they were batteries.
Oh, there is also Bluetooth 5.1 Dual Connectivity so you can listen to your own music, discord, or even take calls. I should also mention the cool app that you can use with it on iOS and Android.
There is this remappable wheel and mode button to assign to distinct functions based on your gaming style. What I liked was how you can turn up the earcup like a volume dial, and there is a button for Active Noise Cancellation.
Hey, did I mention that this comes with a velvet cloth carrying case? It also comes with 3 feet USB-C charging cable, and a 6.5 foot USB-C transmitter cable.
Facts About The Company
I have reviewed many Turtle Beach products before, as you can see when I talk about what else the company makes. I don't know if Turtle Beach was first to the make third-party gaming headsets, but it would not surprise me if they were. They have been a fan-favorite brand for a while, and we're always pleased to review them.
What Does This Company Make?
I should also take the time to say that Turtle Beach is also over the ROCCAT brand, bringing German innovation with genuine passion for PC gaming products. Oh yes, they also make Neat Microphones, and we have also reviewed those. Just go ahead and skip to the end of the article if you want to see some other headsets Turtle Beach has reviewed, and you can just do a search for gaming mice, as Turtle Beach has made a lot of them.
Just the Specs, Man
If you're the type that needs this info, this section is for you!
Connections:
Wireless Transmitter: Xbox Consoles, PlayStation® Consoles, PC, Mac® and Nintendo Switch™
Bluetooth®: iOS, Android, PC & Mac®, Nintendo Switch™ & other Bluetooth® Equipped Devices Headphones
Drivers: 50mm Nanoclear™ Drivers with Neodymium magnets
Noise Cancellation: Variable Active Noise Cancellation
>30dB Noise Reduction @ 100Hz
Frequency Response: 10Hz – 22kHz
Microphone Type: Unidirectional Noise Cancelling
>35dB Noise Reduction @ 3kHz
Frequency Response: 100Hz – 8kHz
Sensitivity: Boom: -22dBFS/Pa / Built-in: -26dBFS/Pa
Wireless
Dual Connection: Simultaneous 2.4Ghz & Bluetooth
Gaming Wireless: 2.4Ghz Lag-Free Wireless
Range: Up to 50' / 15m Earcups
Earcup Design: Over-Ear (Closed)
Ear cushion Material: Leatherette wrapped Memory Foam
If there is something on this that I didn't cover, please let me know.
What Do the Reviews Say?
At the time of this writing, this product is brand-spanking new. I was lucky enough to be sent one about two weeks ago, but I couldn't publish this until the 20th, and its the 19th now. Normally, the company website has reviews of the product, but with a product so new…maybe Amazon has it!
Well, it turns out that Amazon has the product for pre-order, but I don't see any reviews. I'm just going to go out on a limb and say they will be high. Unless I actually have some new reviews within the first week of release…well, I don't have that.
Okay, Get To The Unboxing Already!
Okay, I Like It, Just Give Me The Link So I Can Buy It Already!
Maybe I Want It, But Is There Anything Else Like It? Maybe For A Lower Price? Please?
In all honesty, the Stealth Pro Wireless really has a lot of great features, so I'm not certain if there is a product, even one from Turtle Beach, that might compare with it. That being said, let's see what gaming headphones that I have reviewed a lot of gaming headsets.
I suppose I could talk about the Enhance Gaming Infiltrate GX-H5, but that one is wired. A while ago, I reviewed the Turtle Beach Recon 500, then there is the Stealth 600 Gen 2 Headset with the Recon 70 Headset. Oh wait, remember how I was talking about how Turtle Beach makes this ROCCAT brand? We have a ROCCAT Syn Max Air Gaming Headphones which had a lot of colors.
Oh, I should probably mention that the Stealth Pro Wireless is available on the Turtle Beach not only for the Xbox/PC, but for Sony PS4, PS5, and PC as well. The Xbox and Sony version is the same price of $329.99.