Introduction (Does It Do What It Should)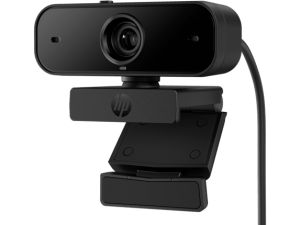 All right, it's time for another webcam review! It's hard to believe that every laptop doesn't have one of those, but this is the age we are in. Anyway, this one is from HP, and you had better believe that we are going to have words about that. I mean, it's HP, for crying aloud!
If you are looking for a really good demonstration of the HP 435 Webcam in action, then I highly recommend you just skip the video. Heck, I'm pretty sure that most of you do that anyway. Then again, I don't know that.
There are several things that I didn't really cover in the video. First of all, the HP 435 FHD Webcam has an "automatic adjustment keeps you looking your best". I am assuming that it was working when I was using it to get my video footage, as I even tried to give myself some bad lighting conditions. Okay, maybe I didn't do that on purpose, but I think most of you know that I usually use a ring light when doing my show. I simply didn't use the ring light and moved into a different room. It has an automatic focus, lighting, and color correction.
The HP 435 FHD Webcam has a privacy cover, which is this switch that I clicked on and off in the video. It just keeps the lens covers, and doesn't mute the sound. What's funny is that I was doing a Zoom conference and didn't realize that I had that privacy cover on.
You can find the HP 435 FHD Webcam has an 85 degree display field of view. It also has a 360 degree swivel that I probably should have used, and it also has a 15 degree tilt. The cord is 1.5 meters, and it is plug-and-play.
So, I will have to say that the first time that I plugged in, I couldn't get it to work. I swear, I had to plug it in and unplug it before it actually started working. However, it does work, and you can see the evidence of that. The best part is it has dual microphones, so it's not like my other webcam where it records at a low volume.
Facts About The Company
So, yes, this is about HP, and I am sure the you have at least heard of them. Chances are, you might have at least used a computer with that logo. For me, it was a calculator back in college.
This company is apparently born of the belief that companies should do more than make a profit. This was a company that was founded about 80 years ago, too. So yeah, they make printers, computers, accessories, and all kinds of stuff.
What Does This Company Make?
This is one of those times where if I wrote about all the products that HP has their hands on, it would be longer than this entire article. I'm just not going to do that.
Just the Specs, Man
If you're the type that needs this info, this section is for you!
Total camera megapixels
2 MP
Focus type
Auto focus
Diagonal field of view (dFoV)
85°
Microphone Type
Dual noise-reducing microphone
Special features
Tripod support; Integrated privacy shutter; Omnivision OV2735 sensor; Auto light correction; Image correction
Lens Privacy Capabilities
Integrated
UVC-compliant applications
UVC 1.1
Certified Collaboration Software
Microsoft Teams; Zoom; Works with Chromebook; Google Meet
Connection Type
Wired USB Type-A
Tilt
15°
Sustainable Impact Specifications
Outside box and corrugated cushions are 100% sustainably sourced and recyclable; 65% post-consumer recycled plastic
Compatible operating systems
Windows 10; Windows 11; mac OS 10.10 or later; Chrome OS™
Minimum system requirements
USB 2.0 Type-A
What's in the box
Webcam; Quick start guide; Warranty card; Travel pouch
Dimensions (W X D X H)
3.22 x 2.15 x 2 in
Weight
0.28 lb
Warranty
HP standard One-year limited warranty
If there is something on this that I didn't cover, please let me know.
What Do the Reviews Say?
I don't seem to find any ratings on Amazon, and that also goes for the HP site. Is this product that new?
Okay, Get To The Unboxing Already!
Okay, I Like It, Just Give Me The Link So I Can Buy It Already!
Maybe I Want It, But Is There Anything Else Like It? Maybe For A Lower Price? Please?
So, I'm just looking up webcams, and here's what I am finding. There is the Streaming Webcam from Toucan. Then there is the Adesso CyberTrack K4 Webcam. Oh yes, and I also reviewed one from Poly Studio P5 Professional Webcam Review, and Poly is owned by HP.
As for me, I often use the VisionTek VTWC40 AutoFocus Webcam, for whenever I use a webcam for reviews.