Introduction (Does It Do What It Should)
I didn't expect Toucan to send me more of their products, but I am quite glad that they did. I've got another trio to review and do the unboxing for, and all three have one thing in common: they help communicate, unlike the cameras we reviewed last time.
Our Review of the Toucan Streaming Webcam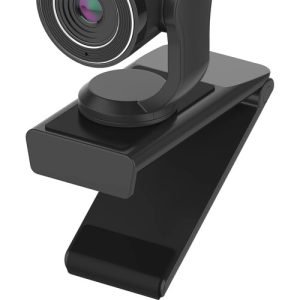 Okay, I've reviewed many webcams in my time, so I will let you judge how good the footage is based on the video, really. Like it? Well, it is a full 1080p HD resolution at 60 frames per second (fps). It is also capable of 1440p FHD at 30 fps.
The Streaming Webcam shoots with a wide-angle 89 degree field of view, and I've heard that it is good for low-light performance. I probably should have turned off the lights during my video, but the Toucan Streaming Webcam is made for people like me who love to shoot video and stream.
You will find that the Streaming Webcam is very portable, and you can just hook it up and use it. There are no software or drivers required, and if you don't believe me, the video shows that it is true.
Our Review of the Toucan Video Conference System HD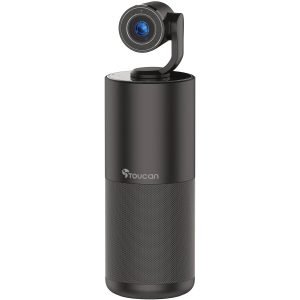 I showed in my video how the Video Conference System comes with a camera that resembles the Streaming Webcam, but it appears to only be available to stream at up 1440p FHD at 30fps. I guess you can't combine the Conference Speaker with the Streaming webcam and get an identical product.
Speaking of the webcam, you can disconnect the camera from atop the speaker and attach it to a webcam stand. It took me a while to figure it out, but it was pretty instinctive once you get it.
That is good video imagery, and the audio is great as the Video Conference System HD has four built-in echo cancelling microphones. This means that you can speak from anywhere in the room, and you will be heard.
Speaking of being heard, the speaker is a 5 Watt, and it really rocks. Oh, I forgot to mention that you can use this speaker while connected to your computer/smartphone, or just go wireless. Yes, it has Bluetooth 5.0, and it is quite easy to pair.
So yes, it is very great. Try it out for yourself if you don't believe me. Oh, and you might want to conference me to tell about your experience.
Our Review of the Toucan Conference Speaker (SC100)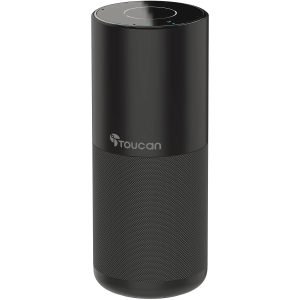 I mentioned several times how the Toucan Video Conference System HD and the Toucan Conference Speaker have the same basic base, and I believe that the stats are very much the same. The Conference Speaker has the 4 built-in echo cancelling microphones, and it works as a 5 Watt speaker.
The Conference Speaker also works on both wired or wireless connectivity with USB cable connection or Bluetooth 5.0. I may have forgot to mention that both the Video Conference System and the Conference Speaker are much plug-and-play, like the Streaming Webcam.
Facts About The Company
I'm not certain if Toucan is owned by VuPoint Solutions Inc., but I'm just going to say that Toucan is under this VuPoint umbrella. That is what it seems like whenever I go to the site.
VuPoint Solutions Inc is a company that I have reviewed before, but I couldn't find a review recently. I think it was during that time that I was writing for other tech blogs, but I think that video is linked with their company somehow.
What Does This Company Make?
Like I said, there are video products or products to get video in their DNA. The VuPoint website has this Share Q Action Camera that reminds me of a cubic-shaped GoPro, and I am hoping that we can review that.
As for Toucan, I was very pleased to show you that this is essentially their main products, at least for smart and connected homes. There are some cool conference cameras that I'm hoping that we can get a hold of before the holiday season.
Just the Specs, Man
If you're the type that needs this info, this section is for you!
I don't really have a spec sheet from the Toucan site, but I have already listed most of the specifics above.
If there is something on this that I didn't cover, please let me know.
What Do the Reviews Say?
For the Streaming Webcam, I have about 32 ratings of 4.0 average on Amazon. As for the Video Conference System HD, it has 25 ratings at 3.7 average. The Conference Speaker rates at 3.6 from an average of 11 ratings.
Okay, Get To The Unboxing Already!
Okay, I Like It, Just Give Me The Link So I Can Buy It Already!
Maybe I Want It, But Is There Anything Else Like It? Maybe For A Lower Price? Please?
As far was the Streaming webcam is concerned, I have reviewed a bunch of them. Here is one from the Adesso known as the CyberTrack K4, and then there is the Poly Studio P5 Professional Webcam. There is also the VisionTek VTWC40 webcam that I use from time to time.
As for the Video Conference System HD, I haven't really reviewed anything like this. I have reviewed several conference speakers like this one from ZVOX and the Poly Sync 20.