Introduction (Does It Do What It Should)
So, we had a chance to review three VuPoint Solutions Inc. products, also known as Toucan. Or at least the three products that I reviewed were labelled Toucan.
Our Review of the Toucan Wireless Security Camera PRO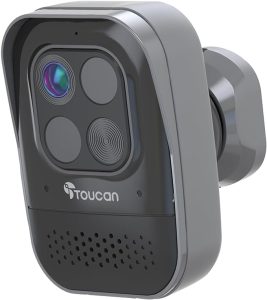 The Wireless Security Camera PRO looks to be made for outdoor and indoor use, as it is IP56 Weather Resistant. It definitely have a great mounting mechanism where you screw in this dome thing, and then it magnetically locks into a place where you can definitely view a bunch of stuff.
Yes, the Wireless Security Camera PRO is made for viewing, and it has some terrific night vision that you can see in the video. You'll see me in black and white, and the sound is a little bit off, but the Toucan Wireless Security Camera PRO is doing its job. It has a 9,750 mAh extra-large battery, and it was very easy to set up with the Toucan app.
The Toucan Wireless Security Camera PRO has Radar Motion Detection, and it doesn't have an SD card for storing footage. I didn't really use it for a while, but I was able to download the footage that I wanted and needed.
Although you need to set up an account for Toucan, you don't need to pay for anything as you get a free 24-hour video history to review the events for the day.
Our Review of the Toucan Wireless Video Doorbell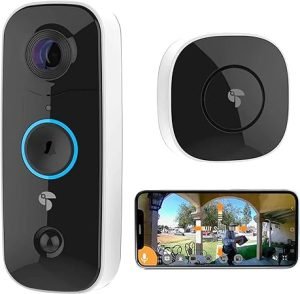 Okay, we have a great wireless video doorbell to review, and man, I was glad to check this one out! I'm sure that I don't need to tell you what a video doorbell is, because don't we all need a camera on our doorbell to see who is at the door?
There is an 180 degree camera that syncs with the app very easily. And this is one of those times when I found that the footage I obtained was a little off on the sound, and the fisheye lens was interesting. However, it is what that you need, and you can get the footage if you need it as this also has free 24 hours cloud record video storage.
There is a wireless chime that is designed to be placed anywhere, so wherever you want to hear your doorbell, you can. If you don't want to answer the door, you can get a notification, and then communicate with whoever is at the door with a two-way audio.
I realized that I forgot to put in footage the night vision, but it does work. It has that black-and-white effect that you can see in the other videos.
Just to let you know, the doorbell itself is chargeable, but the chime itself is powered by two AA batteries.
Our Review of the Toucan Security Light Camera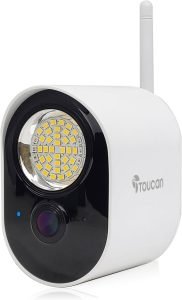 So, in talking about this particular camera from Toucan/VuPoint Solutions, I am going to say that this particular camera is different than the Wireless Security Camera PRO because it has a light. Not only that, this light is very bright, about 1200 lumens.
I didn't really give a demonstration of this in the other two videos, but this particular product can be controlled by the app. So at a touch of a button, The Security Camera Light will flash and make a loud sound to show that help is needed. It is also possible to just turn on the light for a short amount of time. Oh, there is also two-way communication that I didn't really get a chance to demonstrate.
This Security Camera Light uses accurate RADAR motion detection and crystal-clear color night vision. It has a 143-degree field to view what's up where it is mounted, day or not. It is easy to mount by the way, and you can connect it virtually anywhere that you can plug in, and there is a very long cord.
Oh, I forgot to mention that it is weatherproof up to IP56, so you can count on it when needed. Like the other products, there is no subscription required, even though the footage I got was pretty short.
Facts About The Company
I'm not certain if Toucan is owned by VuPoint Solutions Inc., but I'm just going to say that Toucan is under this VuPoint umbrella. That is what it seems like whenever I go to the site.
VuPoint Solutions Inc is a company that I have reviewed before, but I couldn't find a review recently. I think it was during that time that I was writing for other tech blogs, but I think that video is linked with their company somehow.
What Does This Company Make?
Like I said, there are video products or products to get video in their DNA. The VuPoint website has this Share Q Action Camera that reminds me of a cubic-shaped GoPro, and I am hoping that we can review that.
As for Toucan, I was very pleased to show you that this is essentially their main products, at least for smart and connected homes. There are some cool conference cameras that I'm hoping that we can get a hold of before the holiday season.
Just the Specs, Man
If you're the type that needs this info, this section is for you!
I couldn't find a specs page to copy and paste here, so I'm hoping you can find that info on the Toucan website.
If there is something on this that I didn't cover, please let me know.
What Do the Reviews Say?
I would say positive, but not too positive. For me, I tried out these products and found that the footage wasn't the greatest, but it is enough to get what you need as far as your capturing is concerned. There is a reason why I kept the actual footage clips small, and a lot of that had to do with how much I could download.
The Toucan Wireless Security Camera PRO averaged on Amazon at 4.0 out of 5, with 1,678 ratings at the time of this writing. I think that is actually decent, and enough to justify purchase for simple home security.
As for the Toucan Wireless Video Doorbell, that is a little lower at 3.9 out of 5, out of 692 Amazon ratings. I can't help but feel that the footage could have been better, at least that which I downloaded. I'm not certain why the final product came out spherical in the video.
The Toucan Security Camera Light is the highest rated at 4.3 out of 5, which is gather from 66 individual Amazon ratings. I definitely liked the features on its app, and the extra light helps.
Okay, Get To The Unboxing Already!
Okay, I Like It, Just Give Me The Link So I Can Buy It Already!
Maybe I Want It, But Is There Anything Else Like It? Maybe For A Lower Price? Please?
Now that is a good question, and I knew that I would have several answers for that. If you are looking for something that doesn't require something as advanced as the Wireless Security Camera PRO, you could go with the Logitech Circle 2 that I reviewed four years ago, so I'm sure there is at least a Circle 3 out there now. There's also the EZVIZ Mini Plus Home Security Camera, and that was so long ago, I don't believe it. These are indoor cameras, kind of like the Hoop, which I recall being one of my first video reviews.
As far as the Smart Video DoorBell, I remember saying in the video that I had reviewed a few, and it was actually three. The first was the Eufy Video Doorbell in 2019, the next is the Bosma Sentry Video Doorbell in 2020, and then the Smart Video Doorbell from Netatmo in 2021. So that is one per year for two years, and didn't review one last year.
As far as the Security Camera Light, we have the EVE Outdoor Camera that we reviewed recently, but we couldn't get that to work without an iPhone, as I recall. I think that one has a light, but I have been using the eufyCam E 2-Cam Kit without one, and it works.