Introduction (Does It Do What It Should)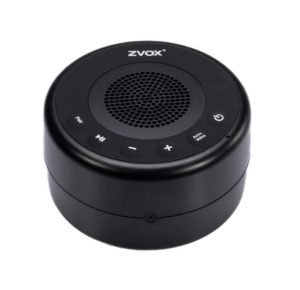 Yes, I have reviewed Bluetooth speakers before, and I have to say that the AV70 is different. I mean, not only is it a Bluetooth speaker for your music, but it is an audio conferencing tool that uses hearing aid technology to clarify voices. In addition to the good sound, the AV70 has a hands-free microphone.
In fact, I've discovered that this AV70 is the first conference speaker with Accuvoice Dialogue Clarifying technology. This allows for hearing every word clearly, at low volumes. It picks up voices from all directions, so even 1-12 people can participate on the same spaker.
So, how is the pairing? Well, it is very good, and practically instantaneous. There is, of course, a pairing button for that. As for the other buttons, I liked the volume up and down button, but found that holding them down advanced a track when I didn't want to.
Still, the main website boasts that the AV70 is "the world's smallest home theater system". It certainly does have some pretty punchy bass, man. I'm told that it is the ZVOX AccuVoice technology to hear every word of dialogue. In fact, there was a button for AccuVoice, and I'm certain how that fixes voices.
So, how is the battery life? Well, we're talking about 30 hours before needing a charge. So, hey, that is definitely very good, and I was using it outside the other day, and it was really great with its sound. I found that the sound was much better on a flat hard surface.
Facts About The Company
ZVOX Audio was founded two decades ago by some serious industry veterans, and they have worked with Cambridge Soundworks, a company that I have reviewed before. ZVOX started up with the 315, a system CNET called "the first commercially available soundbar". Four years later, it was the 550, the first SoundBase style home theater system. The AccuVoice feature makes the vocals very clear.
What Does This Company Make?
I just checked out the ZVOX company website, and I found a lot of Soundbars, not to mention headphones and earbuds. What I would love to discover is how good these products are, and I'm hoping that we will be receiving them. How about it, ZVOX?
Just the Specs, Man
If you're the type that needs this info, this section is for you!
I didn't really see a lot of specs on the company website, but the dimensions are 4 x 2.2 inches.
If there is something on this that I didn't cover, please let me know.
What Do the Reviews Say?
There are about 29 reviews on the ZVOX company website, and it averages out at 4.2 out of 5. This is definitely a four-star speaker in my book, perhaps even five. I don't have anything from Amazon…yet.
Okay, Get To The Unboxing Already!
Okay, I Like It, Just Give Me The Link So I Can Buy It Already!
Maybe I Want It, But Is There Anything Else Like It? Maybe For A Lower Price? Please?
I've just reviewed several speakers, but they were larger ones, one from VisionTek and Creative Labs.
Then there was the Bluetooth speakerphones with conference speakers like this one: the Poly Sync 20 Speakerphone, this Cyber Acoustics Speakerphone, and then there was the Liddle Speaker. Oh yes, and then there was this Anker PowerConf and a similar Soundcore Flare Bluetooth Speaker.