Introduction (Does It Do What It Should)
Hello, I think you know who I am, but we have had a chance to review three STM products. It is a company that we reviewed once before, and I am talking about sometime back in 2016. I'll discuss that later. For now, I want to discuss three different STM products with the Myth Laptop Brief, PowerKick mobile battery, and the Dux Plus for the iPad Pro 12.9 inch version.
Our Review of the STM Myth Laptop Brief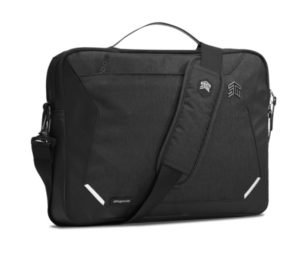 So, I am going to have to talk about laptops, and how you definitely need protection if you take them on the road. It was the first thing I learned when I first got a laptop, and so I just took the first bag that I saw and didn't care about the price or durability.
I would definitely recommend the Myth Laptop Brief, especially if you have a 14-inch MacBook Pro (13-inch screens and smaller) or 16-inch MacBook Pro (also 15-inch versions). There are several zippers for pockets, there is the main one where you store the laptop, and there are several pockets in that one.
Oh, there is a zipper pouch in front, with a zipper pocket (with other pockets as well). Then there is a zipper-less pouch in back. Oh, and then there are also two straps, one on the top for a hand-carry, and a strap for over-the-shoulder type of carry.
Other features include an AirPod pocket, but I can't quite figure out where that it is. Oh, it also has water repellent C6DWR coating applied to the fabric.
Our Review of the STM PowerKick Mobile Battery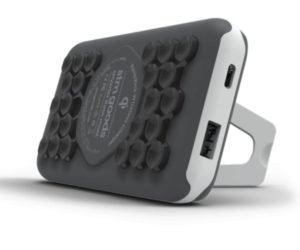 All right, so let's talk about this really cool mobile battery. I'm sure I don't need to tell you what a mobile battery is, because you probably have three in your house, and none of them are charged.
So, yes, the PowerKick does precisely what it says, gives your mobile device a fresh kick of power, one that it really needs. The PowerKick is a portable wireless 10,000 mAh lithium polymer powerbank, and it is Qi enabled. I don't really have an iPhone, so I couldn't see if it works with iPhone's MagSafe devices. Fortunately, it has a charging cable that will work with anything USB-C, which I am told is good for that new iPhone 15 and friends.
So I should probably get to the features that you can see in the photo. It has these suction cups so your mobile device will stay attached, as it really should. Then there is a really cool kickstand for viewing your smartphone in portrait and landscape mode.
Our Review of the STM DUX Plus for iPad Pro 12.9 inch version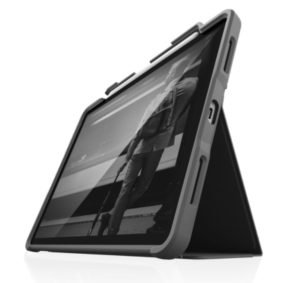 This actually isn't my first time reviewing something like this, but again, I will get to that. For now, the Dux Plus has a cool transparent outline to hold the iPad itself, and it can withstand U.S. Military Standard 810H drop tests, and I don't really know what that means, really.
I am told that the Dux Plus for the iPad Pro 12.9 inch version (3rd-6th Gen) is made in Australia, and it also has a patented magnetic closure. You can see in the video how the flap comes around and snaps into place, which creates that folio effect that you see in many iPad cases.
Oh, by the way, the Dux Plus has an integrated Apple Pencil for wireless charging and storage. Oh, by the way, the Dux Plus can withstand drops of 6.6 feet, in case you were wondering about the military standards.
Facts About The Company
From what I read about the company on their "About Us" page, it would appear that this company, which I found stands for "Smarter Than Most", was started in 1998. It was started by Ethan Nyholm and Adina Jacobs, and they started making the best in bags to protect digital gear and offer a "fashion-forward" look. Not only do they makes some cool bags, but protection, like iPad cases. Oh, and then there is the cool PowerKick that I just finished talking about.
What Does This Company Make?
Like I said, they make bags as well as power and accessories. And there is also iPhone, laptop and tablet protection. Here's a few of their products that I reviewed back in 2016 (I told you that I was going to get to them).
Our Review of the Drifter Energy 15-inch Laptop Backpack from STM Bags
STM Part 1: The Haven 15-inch Laptop Backpack
Just the Specs, Man
If you're the type that needs this info, this section is for you!
Specs for the STM Myth Laptop Brief
main material(s): 100% polyester
outer dimensions: H 11.42 x W 15.35 x D 2.36 in / H 29 x W 39 x D 6 cm
capacity: 8.0 L
weight: 1.87 lbs / 0.85 kg
Specs for the STM PowerBank
main material(s): ABS, silicon, electronic components
outer dimensions: 5.4 x 2.9 x .8 in / 13.6 x 7.5 x 2.1 cm
weight: .53 lbs / .24 kg
input: USB-C: DC 5V/2.5A, 9V/2A
output: USB-A and USB-C: DC 5V/3A, 9V/2A, 12V/1.5A
wireless: up to 10W
Specs for the STM Dux Plus for iPad Pro 12.9-inch Version
main material(s): 100% TPU with Polycarbonate Back
outer dimensions: 11.46 x 9.05 x .51 in / 29.1 x 23 x 1.3 cm
weight: 1.14 lbs / .476 kg
compatible with: iPad Pro 12.9″ (6th/5th/4th/3rd gen)
model number(s): A2436, A2764, A2437, A2766, A2378, A2461, A2379, A2462, A2229, A2232, A2069, A2233, A1876, A1895, A2014, A1983
If there is something on this that I didn't cover, please let me know.
What Do the Reviews Say?
I couldn't find an Amazon review for the Myth Laptop Brief, but part of it could be that I couldn't find it in that color. As for the Dux Plus for the 12.9-inch iPad Pro, it is 4.1 stars out of 9 ratings. I couldn't find the PowerKick on Amazon either. Not surprising, the ratings are higher on the company site, with the Myth Laptop Brief with an average of 3 stars. The Dux Plus has almost all 5 stars reviews. The PowerKick has about two reviews, and they are both 5 stars.
Okay, Get To The Unboxing Already!
Okay, I Like It, Just Give Me The Link So I Can Buy It Already!
Maybe I Want It, But Is There Anything Else Like It? Maybe For A Lower Price? Please?
I think I have mentioned this, but I did some review of UAG products, and this is my recent Part 2 and Part 3 which have a iPad Pro 12.9-inch version case and a cool bag.
I usually don't review 12.9-inch iPad Pro cases, but I have reviewed similar bags from Solo and the Perfect Case.
As far as a mobile battery is concerned, just do a search for mobile battery, and you'll find several. Speaking of several, I would love to review several more STM products, and I really hope that we get a chance before the holiday season!