Introduction (Does It Do What It Should)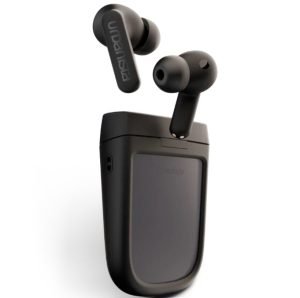 So, I had a chance to try out some really cool wireless earbuds, ones that I saw at CES last January. This one is from Urbanista, and it doesn't look like I've reviewed anything from them recently. I do love that it is known as the Phoenix, because I really like Phoenixes, or Phoenices, whatever.
I'm assuming that these earbuds are called the Phoenix because it rises from its ashes, kind of. Well, it does have the power to recharge with solar, and this might be the first time I have reviewed a pair of earbuds that have that power. By power, I mean the Powerfoyle solar cell material, some green technology that continuously recharge when stored in the self-charging case. Oh hey, I just learned that the Phoenix will recharge in different types of light, whether it be indoor or outdoor.
So, yes, I have the charger case kind of leaning up against this nearby light, and I'm assuming that it is good. Speaking of good, we should probably talk about the sound. Yes, it has some active noise cancelling technology, and I have to admit that the video I'm watching on my phone sounds so much better.
Oh, there is also some noise-reducing microphones that can somehow filter out ambient sounds, which means I can make a phone call in a loud place.
So I think we should talk about the playtime. We're talking 8 hours of it, and there is 34 hours of battery reserve. I wonder how this will work if you give that case some sun every once in a while.
What is interesting is that the Phoenix is water-resistant IPX4, so it should resist your sweat. By the way, they also fit pretty well in the ears. Oh, they also have Bluetooth 5.2.
I'm definitely going to say that it feels like every earbuds should have a case that is solar-powered, because I believe that April, this month, is sustainability month. Then again, sustainability is kind of a big buzzword, one that I heard a lot at CES. By the way, that's where I heard about this particular product. I remember in my review of that Geneverse product about how solar technology might not be as efficient as we may think.
Facts About The Company
I am on the Urbanista site now, and I'm really having a hard time finding an "About Us" here. It's pretty clear that everything about their products has to do with audio. I did see a thing on the website talking about simplicity, and the company likes to "minimize everything that holds you back". They also say to "treat yourself to everyday luxuries that you've been missing", and both of those quotes are a more than adequate description of what the company of Urbanista is into.
What Does This Company Make?
I just said that Urbanista wants to do audio products, so it has the usual headphones, earbuds, and speakers. I've seen these on many company's catalogues, but what makes Urbanista different? Perhaps it is the minimalist look that does it.
Just the Specs, Man
If you're the type that needs this info, this section is for you!
Drivers type: 10mm dynamic, moving coil
Driver impedance: 16 Ohm ±15%
Sensitivity: 97 ±3 dB SPL/mW @ 1kHz
Frequency response: 20 Hz to 20 kH
Microphone type: MEMS
Bluetooth® version: 5.2
Bluetooth® profiles: A2DP, AVRCP, HFP, HSP
Audio codecs: SBC and AAC
If there is something on this that I didn't cover, please let me know.
What Do the Reviews Say?
I see that there are six reviews on the company website, and I suddenly realized that I quoted the wrong price, which is about $149.00.
Actually, I just looked up the product on Amazon.com, and man, it is a lot cheaper at $134.10. By the way, the product has 5 reviews, and all of them are 5 stars. That, my friends, is just crazy.
Okay, Get To The Unboxing Already!
Okay, I Like It, Just Give Me The Link So I Can Buy It Already!
Maybe I Want It, But Is There Anything Else Like It? Maybe For A Lower Price? Please?
Geez, how many of these dang wireless earbuds have I reviewed? I don't know. How many of them are solar powered? This one I know…none. I am planning on reviewing a pair of earbuds from Poly which have a feature that I dare not spoil here.
My most recent reviews of earbuds are the following, and I can recommend them.
There's always these from Jabra with the Elite 5. Oh yes, and then there were the three ones from Raycon, like the Everyday Earbuds, the Fitness Earbuds, and the Gaming Earbuds.