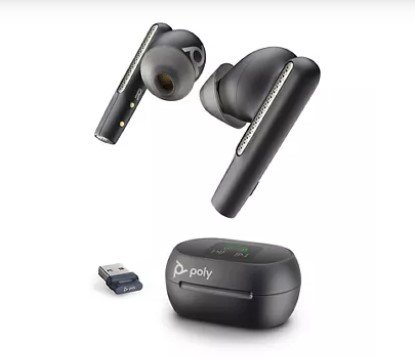 Introduction (Does It Do What It Should)
Oh, there is a great new pair of earbuds with the Voyager Free 60 UC. Once you pair these guys, you can use the adaptive Noise Canceling for you tunes as well as advanced noise blocking algorithms for audio for phone calls.
The Voyager Free 60 UC is very lightweight, and they also have this touchscreen charge case to extend the battery life. Yes, this charging case has a touchscreen, and I don't think I have ever seen anything like that before. I can't help but think this will somehow be some new kind of standard feature for earbuds.
You can see in the video how the touchscreen works. The setup shows that pairing the earbuds in a normal manner of pairing Bluetooth earbuds, but I've never had any pair of wireless earbuds confirm the pairing on the case! You can also see in the video how the case allows control of playing music tracks as well as volume control. Man, that feature really rocks.
Another feature that really rocks is this cool USB transmitter dongle that you plug in and you are able to hear whatever it is plugged into on the earbuds. I mean, if you want to bypass the whole Bluetooth pairing functionality and skip to plug and play.
The sound is quite good, and there is Active Noise Cancelling. You can get about 5.5 hours on the earbuds, and with a full charge, the case is good for 11 hours.
Facts About The Company
I'm not certain what the vision of Poly is, or how it got started, but it certainly seems to be on a good track. In fact, it looks like they have combined with HP. It would appear that Poly makes products made for the office, as you will see.
What Does This Company Make?
I have reviewed a webcam from them a while ago. Not to mention some kind of speakerphone, a pink one. They make headsets and anything else you might need for the office, or the home office.
Just the Specs, Man
If you're the type that needs this info, this section is for you!
Talk time with Active Noise Canceling (ANC) (earbuds/case): Up to 5.5 hours (earbuds)/ up to 11 hours​ (case)
Active Noise Canceling (ANC)​: Yes
Single-ear mode: Yes
Included charge case: Touchscreen charge case
Airplane mode input (3.5 mm):​ Yes
Call/media control: Via charge case​ Answer/end, hold, mute, volume, play, pause, volume +/-, track forward/backwards
Qi charging for charge case​: Yes
BT700​ Bluetooth® adapter2​: Yes
Connects to PC​: Yes, via included BT700​ Bluetooth® adapter
Storage compartment for BT700 Bluetooth® adapter​: Yes
If there is something on this that I didn't cover, please let me know.
What Do the Reviews Say?
On the official site, there are about seven reviews, and four of them are five-star ones.
Okay, Get To The Unboxing Already!
Okay, I Like It, Just Give Me The Link So I Can Buy It Already!
Normally, I put in an Amazon link here, but I don't seem to be able to find it on Amazon. Here's a link where you can find it on this HP site.
Maybe I Want It, But Is There Anything Else Like It? Maybe For A Lower Price? Please?
Well, it is a pair of wireless earbuds. I would say that they are a dime a dozen, but they are not that cheap. I would say that the Poly Voyager Free 60+ are highly decent.
Like I said before, no one has really made one with a touchscreen. I did review that Urbanista one that was solar-powered. My most recent reviews of earbuds are the following, and I can recommend them.
There's always these from Jabra with the Elite 5. Oh yes, and then there were the three ones from Raycon, like the Everyday Earbuds, the Fitness Earbuds, and the Gaming Earbuds.