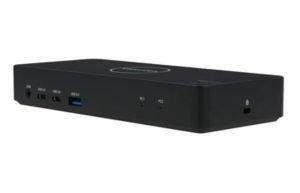 We've visited with VisionTek in the past, as they have some cool chargers, speakers, webcams, and much more. I am very glad to check out the VT2900 USB-C KVM Docking Station.
If you aren't familiar with a KVM, it stands for Keyboard, Video, and Mouse. Yeah, I didn't know that and felt embarrassed asking about it when at was at CES 2023 with VisionTek. I am glad that I did check this out, because this thing looks great, and is quite practical, too.
The VT2900 is designed so you can switch between two systems very easily with a touch of a button. If that isn't enough to sell you, then you should know it has some cool ports like one DisplayPort, 1 HDMI, 3 USB-A ports, 1 USB-C port, Audio, Ethernet, and even a place to put a laptop lock.
So I was very pleased to try this out, as you can see in the video below. The setup was very simple, even though I had to consult the instructions as to where to plug in the USB-C cords on my laptops. I was able to use the keyboard and mouse perfect, and the only problem I had was with my display, which was clearly the fault of the display being pretty old.
There is a 100 W Power Delivery going on as well. You can find the VT2900 USB-C Dual System KVM Docking Station on the VisionTek website for $299.99.