Introduction (Does It Do What It Should)
So, these are some cases. Assuming they fit, and yeah, I don't have the Samsung Galaxy S23, the Samsung Galaxy S23 Plus, and the Samsung Galaxy S23 Ultra, but they always do. I've done enough reviews of UAG products to know them pretty well, but I'll get to that later.
Our Review of the UAG Pathfinder SE Series Galaxy S23 Case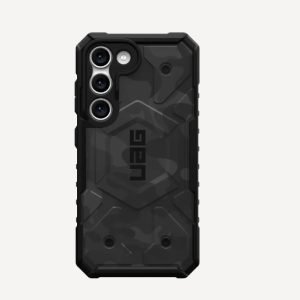 So, this Pathfinder SE series is so named because it will blend into the background with its camouflaged design. Okay, I don't know why it is called the Pathfinder, or why the SE is given to the name, but I've discovered that when you add SE to a UAG product, it's camo.
It does an impact frame, armor shell, and impact resistant core that still retains a lightweight feel. So it is light, but it is also tough. We're talking 16 feet (4.8 meters) of drop protection. By the way, you might see in the video where I report about the 16 feet drop protection, it's actually a repeated clip. Seriously, the next case has the same drop protection, and I don't know where the clip for this case went. It totally fits, believe me.
So let's talk about the pattern on the UAG Pathfinder SE, and how it has this unusual kind of pattern to it, with rivets. Yeah, it has rivets, and I am going to assume that its textured in several places so it won't slip out of your hand.
Our Review of the UAG Plasma Series Galaxy S23 Plus Case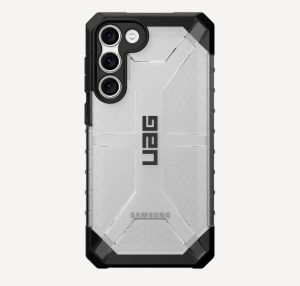 Okay, so now we are getting into the Plus sized cases, and you can see that this one has the unique textures, but it is quite transparent, or translucent.
While I am talking about textures, this will stay in your hand, and the hexagonal pattern keeps the plus-sized smartphone inside. I think I have talked about UAG's pattern, but if not, then I surely will. Actually, I don't think that I ever did talk about the patterns of the UAG Pathfinder SE and the Plasma, but I did in the video. The issue is that the pattern is really just indescribable.
I am told the UAG Plasma case has 3 layers of protection, and yet it is still wireless charging compatible. I haven't even mentioned its fall protection, which is the same as the previously mentioned UAG Pathfinder SE at 16 feet (4.8 meters).
Our Review of the UAG Civilian Series Galaxy S23 Ultra Case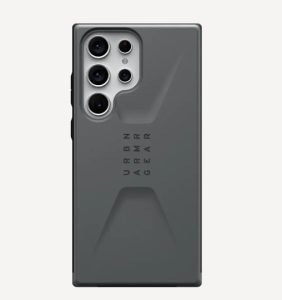 Okay, so one look at the Civilian Series, and you can see how smooth it is compared to the textured cases. I mean, it does have those little indents in it, but let's get to the lab-tested design.
This Civilian, and I hesitate to call it that is it is more of a superhero than anything, is quite something. It has some HyperCush technology, which I am assuming is its two layers of shock-absorbing materials in a terrific hexagon pattern. It feels so smooth in one's hand, and lightweight as well.
Okay, let's get to the drop test for the UAG Civilian. It's good for about 20 feet (6 meters) of fall. I forgot to mention its raised screen surround and place for the S-Pen. So is this really a Civilian? No, it is the Superhero. Yeah, I said that.
Facts About The Company
Imagine that it is 2012, and the world is about to end because of some Mayan calendar thing. In Orange County, the action sports center of the world, the company of Urban Armor Gear (UAG) figured out that the case market really sucked, so they developed their versions of popular products. Okay, maybe really sucked is not the proper word, but perhaps room for improvement could take place. Honestly, besides Otterbox and other major brands, I think UAG really has what it takes to beat one of the biggest players in the case game.
What Does This Company Make?
If you want cases, UAG literally has you covered. Then there is some straps as well. But it is mostly cases for smartphones and tablets, as well as straps for smart watches.
I think I'm just going to put in links for my other UAG reviews for the past year.
Another Awesome UAG Review, This Time with iPad and AirPod Covers!
Another Massive UAG Omni Review for iPhone, Apple Watch, and Clothes, too!
Our Review of the UAG Plyo for the iPhone 14, the Civilian for the iPhone 14 Pro Max, and the Pathfinder SE for the iPhone 14 Plus
UAG Massive Omni Review with 18 products for the iPad, iPhone, and much, much more!
Our Review of the UAG Pathfinder for the Samsung Galaxy S22+
Just the Specs, Man
If you're the type that needs this info, this section is for you!
UAG Pathfinder SE Series Galaxy S23 Case
Weight: 0.09 lb
Length: 5.95 in
Width: 2.99 in
Depth: 0.50 in
UAG Plasma Series Galaxy S23 Plus Case
Weight: 0.11 lb
Length: 6.39 in
Width: 3.2 in
Depth: 0.53 in
UAG Civilian Series Galaxy S23 Ultra Case
Weight: 0.13 lb
Length: 6.66 in
Width: 3.34 in
Depth: 0.57 in
If there is something on this that I didn't cover, please let me know with a comment below.
Okay, Get To The Unboxing Already!
Okay, I Like It, Just Give Me The Link So I Can Buy It Already!
You can get the Pathfinder SE Series Galaxy S23 Case for about $49.95 on the UAG site, the Plasma Series Galaxy S23 Plus here on the UAG site, and the Civilian Series Galaxy S23 Ultra Case on the UAG site here.
Maybe I Want It, But Is There Anything Else Like It? Maybe For A Lower Price? Please?
I suppose you could go with Otterbox, but their cases are pretty up there in price. I would have to say UAG is up there in price, but not to far. I mean, you have to pay for protection.
I just reviewed Torras cases, and some of the Vena case.
I actually have another review coming up of some cases, and it will post soon, if it hasn't already. I think I will always have cases like this to review as long as we have smartphones.