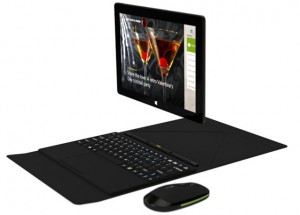 In 2010, the Notion Ink Adam entered the market along with several other Android tablets. It was by no means a success, and the Adam II was sadly met with the same fate. Now the company is introducing a new Windows tablet with the Notion Ink Cain.
Yes, I suppose it is interesting that its sequel is called the Cain. Personally, it should probably be called the Able, because it sounds like "able". Of course, he was murdered…by Cain. Anyway, this is tablet is a Windows tablet.
As far as I know, this is the first time a series of tablets has changed operating systems. I noticed that the Ink Cain has a detachable magnetic keyboard, kind of like the Surface. It has a 1.8GHz Intel Atom-powered processor, 2GB of RAM, 10.1-inch screen, and 32GB of expandable storage.
If you want this, you should be able to get it for about $330.