Introduction (Does It Do What It Should)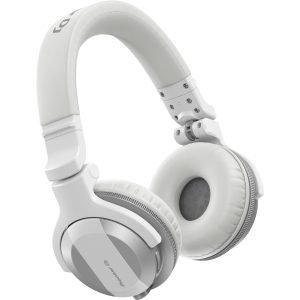 So, I had a very interesting time reviewing this pair of Pioneer headphones, as it has been over a decade since the last time. I'm guessing that Pioneer has some kind of DJ headphone division or something, because that last time was a DJ pair too.
I am not certain what is required to be a DJ, and yes, this shows how unhip I am. Still, I will have to testify that the HDJ-CUE1 Headphones have some terrific sound to them, as it has some precise sound tuning for the lows, mids, and highs of the music with crystal clarity. Yes, I borrowed that from the Pioneer website, but after listening to the HDJ-CUE1 headphones, I can say that it is the truth.
I mentioned on the video below that the HDJ-CUE1 is light, and it weighs less than 250 grams. I did have issues with wearing it over an hour, and it was kind of hurting a bit after that. I'm not going to hold Pioneer accountable for that, because you could get that result from pretty much any over-the-ear headphones.
Now, I am told that the HDJ-CUE1 can handle a lot of usage. I show on the video that it folds up in a very unique manner, and I also say that I'm surprised that there isn't a carrying case. It seems like a lot of things that I'm reviewing these days have a handy carrying case, hard or soft.
Now, you will note that the pic that I have is white, as is the model in my video. However, the HDJ-CUE1 is available in many different colors like Black, White, Red, and Dark Silver. Then these can be used interchangeably.
Facts About The Company
This is one of those times where I have to say that I would be surprised if you haven't at least heard of Pioneer Electronics. The company was started back in 1938, and according to the company history, this company started with making speakers in a garage, and it helped developed many consumer electronics products like the laser disc, CD player for the car, GPS car navigation, DVD-Video player, and much more.
What Does This Company Make?
Pioneer's current website says it has tech for cars, marine, and cycle sports. They also do television and Home AV. Then there is the DJ section, and it looks like this includes DJ tables and headphones. Yeah, there is a lot that this company does, and it's pretty amazing.
Just the Specs, Man
If you're the type that needs this info, this section is for you!
This time, I couldn't find anything on the company website or any place that sells them for basic specs that I could copy/paste.
If there is something on this that I didn't cover, please let me know.
What Do the Reviews Say?
The Pioneer website didn't have any ratings, so I checked it out on Amazon. I found about 124 ratings that average at 4.6 stars.
Okay, Get To The Unboxing Already!
Okay, I Like It, Just Give Me The Link So I Can Buy It Already!
Maybe I Want It, But Is There Anything Else Like It? Maybe For A Lower Price? Please?
Well, I don't know about DJ headphones, but I'm going to talk about other headphones that you can buy that have Bluetooth capability, several of them I have reviewed recently. Like the 1More SonoFlow SE Noise Cancelling Headphones. I reviewed another one from 1More (so one more from 1More), and I am not certain they are the same pair.
Oh yes, then there is the Los Angeles Solar Powered Wireless Headphones from Urbanista. Then there is also the Haymaker HM100 headphones that I reviewed sometime last year.
Then there is the Master and Dynamic MH40 that I reviewed about two years ago, and I might be reviewing a Master and Dynamic product again in the near future. Oh, and then there is the Edifier W860NB Headphones, but that was over three years ago.