Introduction (Does It Do What It Should)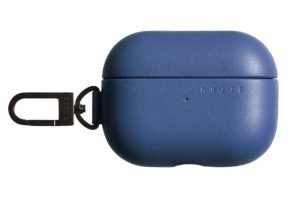 So, I have a chance to review this really interesting product from MUJJO. For some reason, I have been reviewing a lot of products from this company. In fact, I could have sworn that I had reviewed something like this before for the AirPods.
I'm assuming that MUJJO is a specialist in the vegetable-tanned Ecco leather, because I think everything that I have reviewed from them has it. By the way, the Ecco leather "ages beautifully, rated Gold for environmental standards".
These are one of these AirPods Pro (2nd Gen) covers (also compatible with the AirPods Pro 1st Gen), and they are made to just stick on there. There is a clip here made for putting this on your keys or bag, or whatnot. Oh, there is also a side opening for lanyard attachment.
Oh, I forgot to say that these Echelon AirPods Pro (2nd Gen) Case is wireless charging compatible. All in all, it looks super-great, and you should really check it out.
Facts About The Company
I feel like whenever you say "MUJJO", you should think "leather". I mean, I think it is vegan leather, but they do make product with this kind of mindset. There is an emphasis on "purity and simplicity", and that about covers it. The company says that there is an attention to detail, and that is very cool.
What Does This Company Make?
They make a lot of accessories for phones like the iPhone, as well as the AirPods. It feels like these are kind of gourmet, honestly. I mean, they are not very super expensive gourmet, but I'm glad that it isn't. I guess it has to do with vegan leather, which is essentially polyurethane, a polymer that can be made to order by the creator.
Here's other products that I have reviewed from MUJJO:
MUJJO, Part 1: Portfolio Review
MUJJO, Part 2: Full Leather Wallet Case for iPhone 14
MUJJO Review, Part 3: Tech Kit and Envoy 14-Inch Laptop Sleeve
Just the Specs, Man
If you're the type that needs this info, this section is for you!
Normally, I just copy/paste the specs from the website here, but I couldn't see that there.
If there is something on this that I didn't cover, please let me know.
What Do the Reviews Say?
I checked out the company website and they have five 5-star reviews. I wasn't able to find this product on Amazon, so I don't really have much to say here.
Okay, Get To The Unboxing Already!
Okay, I Like It, Just Give Me The Link So I Can Buy It Already!
Okay, I normally put a link to Amazon here, but I couldn't find it on Amazon. Here's where you can find it on the MUJJO website.
Maybe I Want It, But Is There Anything Else Like It? Maybe For A Lower Price? Please?
I think I said earlier that I thought I reviewed something like it, and that would be the Pivet case for the AirPods. I also reviewed an AirPods case from Catalyst. I also know that I have reviewed a case from Nomad, but it has been a while since I have reviewed something from them.