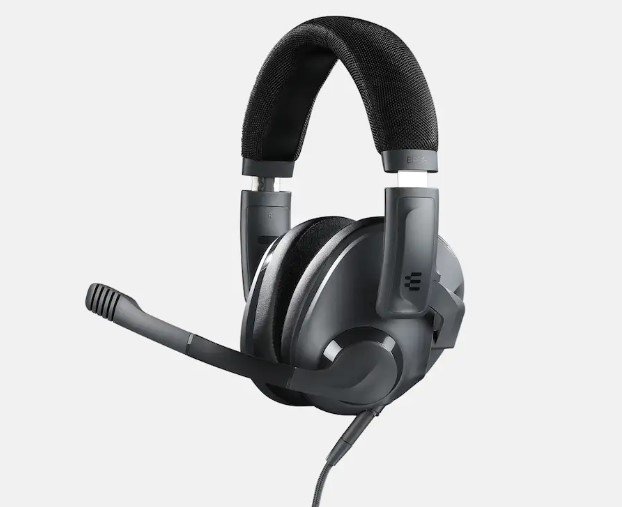 Introduction (Does It Do What It Should)
So yes, this is a review of a cool gaming headset, and it has come to me at just the right time, as I am just about getting into the Switch on Twitch. Yeah, I might as well talk about how I am now gamingchurch001 on Twitch, and I have been using the JAV06 from J5Create.
Gaming isn't the only thing you can use the DROP + EPOS H3X Gaming Headset for, as it can be used for just listening to music or watching videos on your computer. In fact, that is what I am using it for now.
The thing is, it is not wireless. I was kind of disappointed with that, as I was wanting to give that a try. The Drop H3X headphones come with two cables, a 6.6 foot 3-pole PC-cable (2 x 3.5 mm with split TRRS connector) and a 4.9 foot console cable (1 x 3.5 mm TRRS connector).
I thought I would bring up the sound now because when I tried to do it with the non-split cable, I could barely hear any audio at all. So I then plugged in the headphone jack of the split cable and I could hear just fine. Even now, I'm catching up on the last season of Black Mirror. I only bring it up because I am not certain whether the first episode: "Jane is Awful" is…awful.
So what makes it interesting is how there is a dial on on the headphones that allows for turning up the volume, and it works pretty well. Speaking of things that sound pretty well, I would say that the bass response is pretty well and good.
The earcups are pretty comfortable, as I can hear very well, which I like and will come in handy for long gaming sessions. That goes for the headband, too. I should probably take a moment to talk about how the microphone is also pretty solid, and if you raise up the mic, it will silently mute it.
Facts About This Company
So, what can we say about this company? The best thing we can say is that they take pride in the fact that they listen to their users. They are "designed for everyone" and "community inspired products".
Drop is driven by a passionate group of creators and technophiles who tap into feedback and insights from its enthusiast community—millions strong—to design and curate Drop's selection of products. Drop listens to, digests, and analyzes community feedback in the creation of Drop products, and collaborates with leading brands to improve upon existing products in a way that is relevant to the Drop community. Drop is continuously broadening its workspace product focus into new categories to ensure it brings its community the technology they need to thrive.
Normally, when I check out what a company does, I check out the "About Us", and I was surprised that one of the "About Us" had a "About Drop Studio" section. This is a company that has 620 products to date, with 31 in the works.
What does this company make? (Their specialty)
While I'm not certain why the company is called Drop, they are masters of dropping some great products. We're looking at some audiophile products like headphone accessories, and just headphone accessories. Seriously, I don't see a single pair of headphones that is made by this company. It feels obvious to me, as they seem to make almost everything else.
Then there is the mechanical keyboards. I believe the term mechanical keyboard refers to one with spring switches, and it does feel pretty comfortable as you click. As I mentioned before, you can find many on the Drop company website.
Just the Specs, Man
If you're the type that needs this info, this section is for you!
Headset
Drop + EPOS
Form factor: Over ear
Transducer principle: Dynamic, closed
Frequency response: 20 Hz – 20,000 kHz
Impedance: 25 ohms
Sound Pressure level / Sensitivity: 111 dB SPL @ 1 kHz, 0.7 V RMS
Cables: 6.6 ft (2 m) 3-pole PC-cable (2 x 3.5 mm with split TRS connector), 4.9 ft (1.5 m) console cable (1 x 3.5 mm TRRS connector)
Headband: H3 Hybrid headband
Weight (without cable): 9.5 oz (270 g)
Weight (with cable): 10.2 oz (290 g)
Microphone
Frequency response: 100 Hz – 10 kHz
Sensitivity: -39 dBV/PA
Type: Electret condenser
Pickup pattern: Bi-directional
INCLUDED
6.6 ft (2 m) 3-pole PC-cable (2 x 3.5 mm with split TRS connector)
4.9 ft (1.5 m) console cable (1 x 3.5 mm TRRS connector)
Okay, Get To The Unboxing Already!
What Do Other Reviews Say
According to the Drop website, it has a 4.1 out of 15 reviews. I would day that is pretty good, but if you want better, go to Amazon, and you'll find a 4.3 on Amazon out of 21 ratings.
Okay, I Like It, Just Give Me The Link So I Can Buy It Already!
Maybe I Want It, But Is There Anything Else Like It? Maybe For A Lower Price? Please?
Actually, when I was trying out my Twitch channel, I decided to use a pair of wired gaming headphones that I have used before with the ThinkWrite Technologies Victory 250XG Gaming Headset. That was a heck of a lot cheaper. Oh yes, there is also the Enhance Gaming Infiltrate GX-H5 Stereo Gaming Headset, which is also pretty cheap. Oh yeah, I also reviewed that pair from Creative with the SoundBlaster Blaze V2 Gaming Headset with Detachable Noise-Cancelling microphone.
If you want wireless, you are going to have to pay more. We reviewed those Syn Max Air Gaming Headphones from ROCCAT, and that was pretty spectacular. And very recently, we reviewed the Turtle Beach Stealth Pro. If you are a PS4 Gamer, there is a low-budget alternative with the Turtle Beach Recon Air Chat Communications Wireless. If you are an Xbox fan, you could get into the Turtle Beach Stealth 600 Gen 2 MAX for Xbox. Any further back, and I'm in 2021 with the Turtle Beach Recon 200 Gen 2.