Introduction (Does It Do What It Should)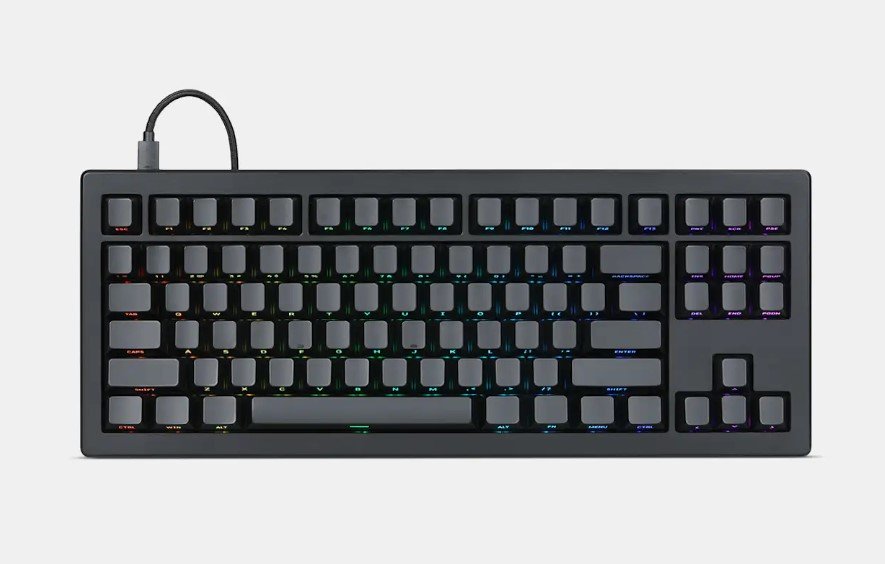 I've lost track of how many times we have reviewed products from Drop, but I was very pleased to try out the CSTM80 Keyboard. I'm assuming the CSTM stands for "custom", but I've not certain what the "80" stands for. Either way, it is one terrific keyboard made for gaming, and just to let you know, I am typing this article on it.
It's kind of what I do whenever I review a keyboard, and I'm really loving the clickity-click of the keys. I am not certain if you can hear the clicks in my video. But you can most certainly see the switch plates, and, as I said in my vid, I got the switch plates a week after receiving the CSTM80, and I like how it just comes off and on again.
A switchable plate is good for things that are custom, and I love how the light pattern can be switched around as well. I don't know how well that I demonstrated this on the YouTube video below, but you can change the rainbow mode so it waves on the keys. You can also change it so it goes in a rainbow pinwheel that is also very awesome, and you can do a single color in a wave pattern as well. I don't know what else I can talk when it comes to the wonderful colors.
In the video, I mentioned how I thought it was odd that there were no letters on top of the keys, and at first glance, I thought they were completely blank. As it so happens, the keys are labelled on the front, and they shine when you power up the keyboard.
What is really interesting is how the CSMT80 has so many layers like an upper structural case, polycarbonate plate, PORON Plate Foam, IXPE Switch Foam, PCBA, PORON Socket Foam, Silicone Dampening Pad, Lower Structural Case, and it has a lot of cool gasket pegs as well. I should talk about how there is this weight on it, and it is metallic for some reason. The weight keeps the CSMT80 on the desk, which I like, a lot.
Facts About This Company
So, what can we say about this company? The best thing we can say is that they take pride in the fact that they listen to their users. They are "designed for everyone" and "community inspired products".
Drop is driven by a passionate group of creators and technophiles who tap into feedback and insights from its enthusiast community—millions strong—to design and curate Drop's selection of products. Drop listens to, digests, and analyzes community feedback in the creation of Drop products, and collaborates with leading brands to improve upon existing products in a way that is relevant to the Drop community. Drop is continuously broadening its workspace product focus into new categories to ensure it brings its community the technology they need to thrive.
Normally, when I check out what a company does, I check out the "About Us", and I was surprised that one of the "About Us" had a "About Drop Studio" section. This is a company that has 620 products to date, with 31 in the works.
What does this company make? (Their specialty)
While I'm not certain why the company is called Drop, they are masters of dropping some great products. We're looking at some audiophile products like headphone accessories, and just headphone accessories.
This was a recent review that I did of their headphones: Drop + EPOS H3X Gaming Headset. Then there is the mechanical keyboards. I believe the term mechanical keyboard refers to one with spring switches, and it does feel pretty comfortable as you click. As I mentioned before, you can find many on the Drop company website.
Just the Specs, Man
If you're the type that needs this info, this section is for you!
Drop
Layout: Tenkeyless (TKL)
88 keys
Case material: Polycarbonate
Magnetic decorative top case
Decorative top case material: Polycarbonate
Plate material: Polycarbonate
Case and switch foam: PORON case foam, PORON plate foam IXPE switch foam, silicone bottom case patch and gasket layer
Gasket-mounted with removable gaskets
Keycap profile: Cherry
Keycap material: ABS (with laser etched front-facing, shine-through legends)
Switches: Gateron Brown Pro 3.0 Switches or Gateron Yellow KS3 Switches
Hot-swappable switch sockets
5-pin switch support
Stabilizers: Gateron PCBA-mounted stabilizers (screw-in)
Per-key RGB LED lighting
South-facing RGB LEDs
14.7 x 5.8 x 1.3 in (37.4 x 14.8 x 3.4 cm)
QMK, VIA, and Vial compatible.
Let me know if I missed anything here.
Okay, Get To The Unboxing Already!
What Do Other Reviews Say
I was hoping that I could find it on Amazon, but the CSTM80 does not appear. The Drop website has about 15 reviews that average at 4.9, which is very good, for sure.
Okay, I Like It, Just Give Me The Link So I Can Buy It Already!
Once again, I could not find it on Amazon, so here's a link to the Drop website where you can click-purchase it.
Maybe I Want It, But Is There Anything Else Like It? Maybe For A Lower Price? Please?
Like I said before, this isn't the first keyboard from Drop, and the Drop ALT is an alternative. It is a bit more in price.
We also reviewed the ROCCAT Magma Mini Gaming keyboard, and that is smaller with similar features, and can be purchased for a lower price. Oh yeah, speaking of ROCCAT, there is the Vulcan II Max Gaming Keyboard as well. And, didn't we also review that Vulcan II Mini Optical-Mechanical Gaming Keyboard as well, also from ROCCAT?
We also reviewed the Cooler Master CK720 Gaming Keyboard. It is a pretty nice one, and you will find it also at a lower price. Oh, and we also reviewed the Cooler Master CK721 Gaming Keyboard. Then, we also reviewed the SK622 Wireless Mechanical Keyboard as well.