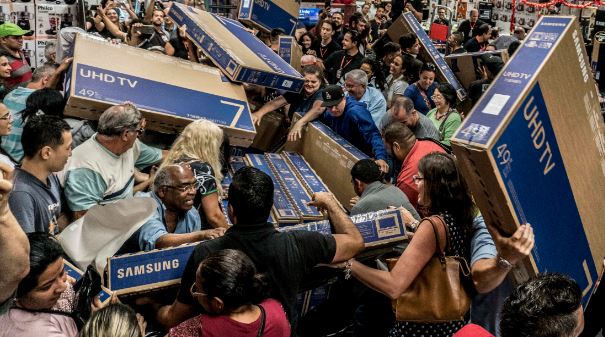 So, it is soon to be Thanksgiving, which is pretty much when Black Friday starts. Then comes Cyber Monday. If you wan to avoid all those big sales and crowds and stuff, I recommend just getting these particular devices instead.
I've written all about them, so check them out. Just click on the link, and there should be a link on the article about where to purchase it.
Go for it!
Laptop Accessories
You might want to check out the GazePad to charge your mobile and be a mousepad!
So, here is a pretty great mouse with the Logitech MX Anywhere 2S!
Check out the Yubikey for security.
Oh, and then there is the OWC Thunderbolt Dock.
So this is terrific product known as the Kwilt!
Tablet Accessories
So, here is a good product known as the BookBook, Volume 2.
So, there is the G-Hold for a tablet!
Here's a great product from Brydge Magnetic Cover for the iPad 12.9 Pro.
Smartphone Accessories
I will highly recommend anything from Cygnett.
So, does anyone like the Clckr case for the iPhone 11? I do.
This is another great case from Adidas!
Here is a 3D viewer from Eyefly!
So, here's a another great Catalyst product for the Airpods.
Check out our review of Tech21 and Speck products!
All right, let's talk about Toast cover with the UAG Pylo.
We have a lot of UAG cases. Plasma and Pylo.
Here's another great review of a Speck case.
Those who want some extra light for your mobile phone shots should check out the LitraTorch 2.0 and the LumeCube AIR VC.
The company of Altigo also makes iPhone cases.
OH, have you seen the iRing from AAUXX!
Here's a unique device known as the GearBeast!
Wasn't certain where to classify this, but this is the Mute+.
So, we have to check out the Pelican case!
So here is a Grip2U product.
Welcome to the Supcase for phones like the Galaxy S10! Oh, there is also the i-Blason!
So, this is some good products from PureGear which also includes some cases!
So, here's some great products from Otterbox like iPhone Pro 11.
And, here's another terrific UAG Monarch case for the Galaxy Note +.
If you want some focus, you should check out the BlackEye lenses!
So, here are some more Catalyst for phones that came out in the fall.
And we had an opportunity to look into some Otterbox products, which includes the Defender and Pursuit cases.
You should see the PureGear KikStik!
So, here's some reviews of more UAG products like the Monarch for the Google Pixel 4 and the Civilian Series for the iPhone 11.
So, we should talk about the Lifeproof products that we reviewed like the LIFEACTIV and the cases.
Oh yes, and some more Catalyst products for the Galaxy S10 series.
Oh, and here are some great Lifeproof products for the Galaxy S10 series too.
So, you got some great things going on with the Icon case.
Home Gifts
You should check out the Kangaroo Motion Sensor.
You should definitely check out this spectacular Nixplay Seed Wave. Oh, we also had a chance to review the Nix Advance 15 Inch and Smart Photo Frame 10.1 inch by Nixplay
So, there is this very cool display made for a lightswitch simply known as the Brilliant.
So, here is the Limitless Innovations ChargeHub Powerstation 360 Surge Protector Power Strip.
Here is a terrific Eufy Smart Floodlight with a camera.
This summer, I moved and bought a new lawnmower from Greenworks that I highly recommend.
So, you should check out the Lumenology Portable LED Wireless Motion Light.
For those looking for improvements in makeup, here is this Comper kit with FaceCare.
Those are thinking about a robot vacuum should look into the Eufy Robovac 11s.
So, what do we have here? It is a new washer and dryer from Samsung that is totally boss!!!
Speaking of robot vacuum cleaners, check out this cordless ROIDMI F8.
So, if you want to keep your kids policed on their mobile devices, check out the TechDen!
So, check out all these great Hive products.
This is something very needed with the Tropo Air Pump.
If you are looking for a router, check out D-Link's D-Fend AC2600 Router!
If you want to make your air conditioner smarter, check out the Sensibo Sky!
If you make your home smarter, you should try the Hubitat Elevation.
This is the Safety 1st HD WiFi Baby Monitor.
Speaking of babies, you might want to look into the Lullabuddy.
Once again, we got to review the Pelican case like the Ruck Case!
Speaker Gadgets
So, here is a House of Marley speaker worth talking about.
So, we had some great lamps from iHome that work as speakers. There is also the iBT751 and the Wireless Charging Bluetooth Alarm Clock.
You have to see this new 37-inch DVD and speaker from RCA.
Here is a terrific speaker known as the Tribit XSound Go Bluetooth Speaker.
Oh, and here is the Buckshot Ultra Pro from OutdoorTech.
We recommend the Anker Soundcore Rave Mini. Anker also made this Wakey Bluetooth Speaker.
Headphones and Earbuds
Welcome to the Altigo age!
So, check out these headphones for all ages with Buddyphones!
So, here's some Onyx headphones.
So, the MWO7 Go and MW07 Plus are terrific wireless earbuds from Master and Dynamic.
So, here is some great wireless earbuds with the MyKronoz Zebuds Lite.
We had a chance to review the Icon1 from Playboy Audio.
So we had a high time reviewing the Beyerdynamic Lagoon ANC.
So here's a great pair of wireless earbuds with the Pamu Slide.
We also had a chance to try out the 1More Spearhead VR BT In-Ear Headphones.
Welcome to the JBL Endurance Run In-Ear Headphones and the Go2 Bluetooth speaker.
So, we had a good time reviewing some Sol Republic Sport Wireless and Shadow Wireless Earbuds!
So, here's another great Anker product with the Liberty Soundcore Wireless Earbuds.
We had a great time reviewing the Beyerdynamic BlueByrd!
One great pair of headphones that we reviewed was Two Wireless Over Ear Headphones from Audio-Technica with the ATH-M50XBT and ATH-SR50BT.
So, you should check out the Master and Dynamic MW65 Active Noise Cancelling Wireless Headphones.
Camera Gadgets
We have found an interesting security camera with the Logitech Circle 2.
Here's a terrific home security system with the eufyCam 2-camera set.
Charging Gadgets
So, can we look at the IOGEAR DuoLinq? You should!
Oh, we had a great chance to review some Nimble chargers.
Here is Anker's PowerCore 10000 PD Redux and PowerPort III Duo!
This is a good mobile battery from the myCharge RazorExtreme PD.
Here's a great device from Limitless Innovations known as the ChargeHubGo+.
Here's some USB charging products from Brydge.
So, here's the PureGear PureJuice 10K PD.
There is an interesting charger known as the Evo, the world's smallest global adapter.
You should definitely check out the GaNFast Charger!
Here are some really terrific Eggtronic products.
Oh, there is a terrific charging and everything product iCaddy.
So, here is some interesting wireless charger from Ventev!
Since we have reviewed Anker products before in the past, here is the Powerhouse 20000 and 200.
Gaming Gadgets
You should try out the Gamesir VX AirSwitch!
So, here is the Roccat Gaming Keyboard and Mouse.
While you are at it, check out the Gamevice!
So, we had a chance to review the 3D Rudder for the PS4.
Here's some Gaming headphones known as Turtle Beach Recon 70.
Toy Gadgets
We got a chance to review some Shifu toys like the Orboot and Plugo.
So, you need to check out these E-Blox Power Blox. Oh, there is also the Circuit Blox.
You also might want to check out the Botzees from Pai Technology.
You might want to look into this DJ device with the Blipbox.
Car Gadgets
So here is the 70mai Dash Cam then there is also the 70mai Dash Cam Lite.
So, here's a great camera with a Nextbase 522GW Dash Cam.
Office Gadgets
Here's a Logitech Presentation Remote that is awesome.
You should see this USB-C Cube from Plugable!
Miscellaneous Gadgets
So, here is a smartwatch strap from UAG.
Did we mention the Outdoor Tech Buckshot Pro Ultra?
Always handy are some Nite Ize products.
So, can we get some kind Linkind Coffee maker.
We had a good chance to review the Pelican 30 Quart Elite Cooler.
Oh, here is our review of the Excy exercise product!
So, you might want to check out the Luci Inflatable Smart Solar Light.
For one of the more unusual devices, check out the Aurai RIO.
I wasn't certain how to classify this, but this is the ModMic USB from Antlion Audio.
So, it is very cool to see Nite Ize gadgets for the sportsman or adventure lover.