Introduction (Does It Do What It Should)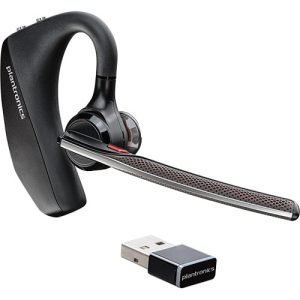 So, this is a terrific Poly product. Say, this would be a good time to let you know that Poly was formally known as Plantronics, in case you haven't watched my video. The unboxing went very well, by the way, but demonstrating it was nothing more than just putting it in my ear, so I'm glad you are reading this, assuming you want more.
The 5200 UC Bluetooth Headset System is made to fit in the ear, and has a great design so it can fit in the left or right ear with a simple adjustment. It pairs very easily, even though I had an issue finding that pairing button. In my first take, I forgot to show that it comes with a USB dongle, so you can wirelessly pair it to your laptop or USB compatible device.
I am told that you can support talk-time of seven hours, with six layers of WindSmart audio performance technology for enhanced audio. It also has SoundGuard sound leveling tech for audio feedback to limit sound to no more than 118 dBA. It has this dynamic noise reduction tech also built-in to when speaking.
You can see on the video how cool the charging case is. You can store it in this charging case about the size of a wallet, and there is even a way to put the headset on it so it charges on the outside. It's weird that the charging case has a USB micro port, and not USB-C.
I mentioned on the video that I was having issues finding a price, at least on the Poly website. I've found it elsewhere for varying deals, and that includes Amazon.
Facts About The Company
I'm not certain what the vision of Poly is, or how it got started, but it certainly seems to be on a good track. In fact, it looks like they have combined with HP. It would appear that Poly makes products made for the office, as you will see.
Yes, I just cut-and-pasted that first paragraph, but I have found out some more information. Apparently, Poly was actually the company known as Plantronics.
What Does This Company Make?
I have reviewed a webcam from them a while ago. Not to mention some kind of speakerphone, a pink one. They make headsets and anything else you might need for the office, or the home office. We also reviewed these cool earbuds that have a display on them, the Poly Voyager Free 60+ UC Earbuds.
I might as well talk about how Plantronics did a lot of products, and how I've reviewed them as well.
Plantronics VOYAGER 6200 UC for the Office and Beyond
Wireless Earbuds: BackBeat FIT 300 by Plantronics
Plantronics RIG SURROUND PC Gaming Headset
Plantronics RIG Headset and Mixer
BackBeat GO 2 from Plantronics
Any other Plantronics products are over a decade old and have definitely changed throughout the years.
Just the Specs, Man
If you're the type that needs this info, this section is for you!
I didn't really find anything listed on the website or other sites, or even the box.
If there is something on this that I didn't cover, please let me know.
What Do the Reviews Say?
According to Amazon, the Poly Voyager 5200 UC has 7,082 ratings that average at 4.2 stars.
Okay, Get To The Unboxing Already!
Okay, I Like It, Just Give Me The Link So I Can Buy It Already!
Maybe I Want It, But Is There Anything Else Like It? Maybe For A Lower Price? Please?
Well, you could always go with a pair of wireless earbuds. I would say that they are a dime a dozen, but they are not that cheap. I would say that the Poly Voyager Free 60+ are highly decent.
I did review that Urbanista one that was solar-powered. My most recent reviews of earbuds are the following, and I can recommend them.
There's always these from Jabra with the Elite 5. Oh yes, and then there were the three ones from Raycon, like the Everyday Earbuds, the Fitness Earbuds, and the Gaming Earbuds.