Introduction (Does It Do What It Should)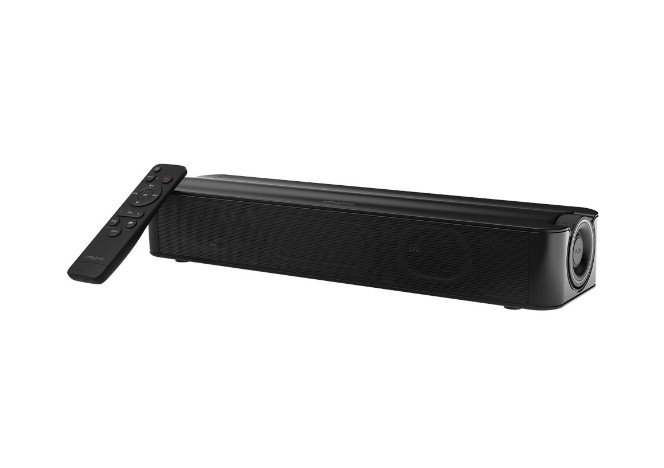 It would appear that I am getting more to review from Creative Labs, and I couldn't be more pleased. Like I said on the video, I have reviewed several Creative Labs products before, and I'll talk about that later. For now, I would like to talk about the Creative Stage SE, a high performance under-monitor soundbar for computer and gaming consoles.
You can check out my unboxing below, and how it comes with an AC cord with all kinds of adapters. It also came with a USB-C to USB-A adapter, and there is this one port on back that I wasn't really able to identify.
So, once it was plugged in, it immediately prompted me to pair a device to the stereo speaker, and I was all about that, as it uses Bluetooth 5.3. There was a button on the side that specified a wired or Bluetooth wireless connection, and I had some issues connecting it to my television vs. my laptop computer.
Basically, I never really seemed to have issues with the Bluetooth wireless connection, provided my device was pairing correctly. The USB cable worked with my laptop, but I had do connect it again and go into my laptop's Settings just to tell my laptop that it had a new external speaker.
So I'm guessing the best setup for this particular Bluetooth speaker is for when you have a gaming setup that is pretty close to you, I guess. The reason why I say close to you is there is a volume control on the side that is in the form of a dial. It's extremely odd, I must say, because…it's a dial. Of course, if you want to have more remote control, then use…the remote. Yes, it comes with one.
As far as the sound goes, it is very great as the Stage SE has a powerful full-range racetrack drivers and oversized radiators. It's go about 48 Watts of power, which is apparently much higher in quality than other Bluetooth speakers. By the way, the Creative Stage SE has Creative Lab's Sound Blaster's audio technologies, with Clear Dialog and Surround, which gives improved vocal intelligibility and wide surround.
I did show on the video how it worked with my television, and there is some terrific cinematic quality sound coming from the Stage SE. Perhaps this is why it is called this, but it optimizes the listening experience for both two-channel and multi-channel source content.
What is great is how this offers Clear Dialog, to extract the vocals and spoken dialog, so it is easy to hear. Speaking of audio, you can adjust with warmer sounds like bass and vocals, along with higher frequencies that are quieter and subdued. There are also bright sounds that reproduces better high-pitched sounds for crisp and clear audio.
Facts About The Company
Creative is a somewhat old company found in 1981, and it was made because Creative wanted make better sound for PCs. Yeah, that was a long time ago, and Creative has produced some really great sound cards throughout the years, and they were the de-facto standard for PC audio in 1989. You might remember how bad cheap PCs were back then.
Creative has had a great track record when it comes to audio products. I mentioned in the video that one of the first products that I reviewed from them was a Zen stone, which was a really cool MP3 player. I have reviewed other products from them.
What Does This Company Make?
These are just the products that I have reviewed from Creative Labs in the past few years.
There is a Outlier Pro set of earbuds that I checked out before Christmas last year.
There was also this Creative Labs SoundBlaster Blaze V2 Gaming Headset, which is a pretty cool thing for gaming with its detachable noise-cancelling microphone.
Similar to that is the Creative Chat USB, made some really good online chatting.
Then there was the Aurvana Trio Wireless, a set of wireless earbuds that are wired together to go around the back of the head.
Oh yes, I forgot about the Outlier One Plus with a built-in media player.
Then there was the Creative Labs Sound BlasterX P5, not to mention the Outlier Sports and Aurana Trio Earbuds.
I'll go ahead and stop with the Halo Bluetooth speaker, the SoundBlasterX Siege M04 Precision Gaming Mouse, and the SoundBlasterX Vanguard K08 Gaming Keyboard.
Just the Specs, Man
If you're the type that needs this info, this section is for you!
Speaker System: 2.0
Connectivity Options: USB Audio
Bluetooth: 5.3
Sound Blaster Technology: Clear Dialog and Surround, Powered by Sound Blaster, Tone Adjustment
Battery Life: N/A
Soundbar Dimension: 410 x 108 x 68 mm/16.14 x 4.25 x 2.68 inches
Cable Length: Power Cable 1.2m/3.98 feet
USB-C to USB-A Cable 1.2/3.93 feet
Driver: Full-range Racetrack Drivers
Peak Power Output: 48 W
If there is something on this that I didn't cover, please let me know.
What Do the Reviews Say?
The one on Amazon Prime says that it has an average of 4.7 stars, which is pretty good, honestly.
Okay, Get To The Unboxing Already!
Okay, I Like It, Just Give Me The Link So I Can Buy It Already!
Maybe I Want It, But Is There Anything Else Like It? Maybe For A Lower Price? Please?
Here's the issue that I have having with this Stage SE product. I am seeing it for $59.99 on Amazon, and in some cases, for $59.99 on the Creative Labs site. Then it flips to about $89.99, which is a price that feels a bit more appropriate.
We did a review of a speaker from Creative with the MUVO Go, and this one was much smaller and made for Bluetooth. It was also pretty portable.
You might also remember when we did that review of the VisionTek SoundTube XL V2 Bluetooth Speaker. It was also made to be very portable.
Then there was that review of the Soundcore Flare Bluetooth Speaker, and man, I really wish I could review another Anker product once again.