Introduction (Does It Do What It Should)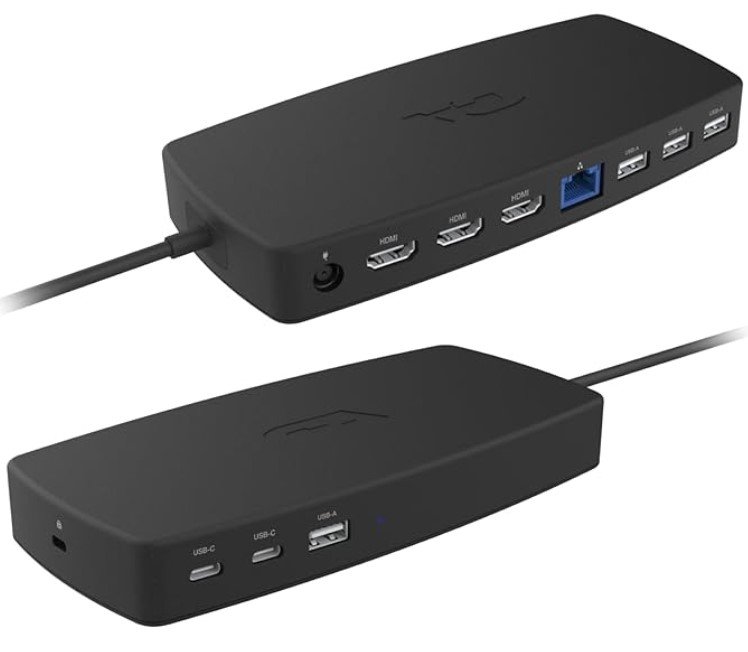 Oh yes! This is Cyber Acoustics, and I'll get to their other products later, but man, I do love me the ones that I have reviewed so far. Naturally, when I saw that they had created a Universal Docking Station, I was all over that.
The DS-6000 is made to be a compact versatile USB-C docking station for a laptop in order to organize a workspace, power a laptop, and also connecting all peripherals with a single USB-C cable. It is made to be compatible with laptops that have USB-C ports or Thunderbolt 3 and 4 ports.
You can see on the video it isn't as simple as plugging the Essential Universal Docking Station into a spare USB-C port. I tried that, but it ended up that I had to plug in CA Essential Universal Docking Station. The good news is that you could plug in your laptop if you have one of those that USB-C cables, and get a 96W power delivery.
So, whenever I review one of these docking stations, it usually boils down to at least one sentence talking about what ports that it comes with, and the CA Essential Universal Docking Station has many of them. One one side, it has 3 HDMI ports, an Ethernet RJ-45 10/100/1000 GbE port, and 3 USB-A ports. As for the other side, we're looking at another USB-A port and two USB-C ports. Then there is an integrated security K-Slot, which I have to admit, I haven't seen in a while (I think I had a laptop that had this K-Slot).
So, as you might have guessed, you can connect three 4K HDMI monitor displays, which can really multiply your productivity! Oh, the CA Essential Universal Docking Station works with both 10/11 or Mac OS 10.6 and above.
Also, I really should have had this on the video, but I just plugged the CA Essential Universal Docking Station into my Android phone, and I was surprised that it recognized it.
Facts About The Company
Like I said before, I have reviewed Cyber Acoustics products a few times before. First of all, Cyber Acoustics has its headquarters in Vancouver, WA, and that is very local as far as I am concerned, as I live in the East side of the state.
Cyber Acoustics has been making all kinds of speakers and headphones, and it still remains a leading EdTech provider, as well as providing all kinds of office essentials such as laptop docking stations, speakerphones, and webcams.
The company wants to continue to provide some great and reliable products and focus on customer service. They are also committed to 100 percent recyclable material, with no single-use plastics.
What Does This Company Make?
Like I said before, there is a lot that Cyber Acoustics makes, and I have reviewed them before, with these being the last few times:
Cyber Acoustics Compact USB Speaker Bar with Integrated Monitor Mount (Update: It does have Bluetooth Capability!)
It looks like I did some kind of three-part series on this about a year ago:
Cyber Acoustics Part 1: Matterhorn Microphone (CVL-2230)
Cyber Acoustics Part 2: CA Essential Wireless Headset (HS-2000BT)
Cyber Acoustics Part 3: CA Essential Speakerphone (SP-2000)
Just the Specs, Man
If you're the type that needs this info, this section is for you!
Specifications:
Laptop Connection: USB-C
Max Video Resolution: (x2) HDMI DisplayLink
(x1) HDMI DisplayPort Alt-Mode
All at 4k@60Hz
USB Ports: (x4) USB-A 3.2
(x2) USB-C 3.2
Ethernet: RJ-45 10/100/1000 GbE
Power Delivery: Up to 96W (power adapter included)
K-Lock: Yes (cable not included)
Dimensions: 7 x 3.25 x 1 inches
Compatible OS: Windows 10 64-bit, Windows 11 or Mac OS 10.6 and above
If there is something on this that I didn't cover, please let me know.
What Do the Reviews Say?
I was hoping that I can find some kind of review stats on the Cyber Acoustics site, but I really couldn't. I did find a stat on Amazon for 4.4 stars out of 11 ratings.
Okay, Get To The Unboxing Already!
Okay, I Like It, Just Give Me The Link So I Can Buy It Already!
Maybe I Want It, But Is There Anything Else Like It? Maybe For A Lower Price? Please?
I looked up "docking station" on my website, and I found several articles. One of them was from VisionTek, with the VT2900, and in case you were wondering, I pulled a comment from my YouTube video of that, and I put that in the video of this Cyber Acoustic product. It looks like we reviewed a similar product from VisionTek with the VT400 Portable USB-C Docking Station.
A few years ago, we reviewed something from Plugable, and I thought we had reviewed even more. Yes, we also reviewed some stuff from Kensington with a few USB-C Docking Stations.